University Galleries and Collections
Ben Shahn
Who was Ben Shahn and Why is this building named after him?
Alejandro Anreus, Professor Art History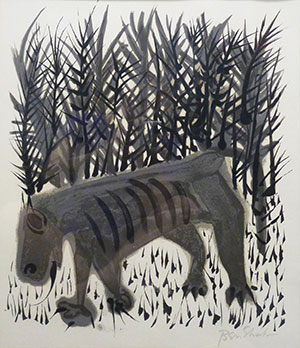 Ben Shahn, One Must Know the Animals from "For the Sake of a Single Verse," 1968

Ben Shahn (1898-1969) was a perhaps the major social-realist artist to have emerged in the early 1930s in the United States. He was a painter, photographer, printmaker and muralist, who also had a very active career as an illustrator and graphic designer. He was born in Kovno, Lithuania, and came with his parents and younger brother to the United States, settling in Brooklyn in 1906. Between 1913 and 1917 he was apprenticed in a lithography shop, where he learned typography. He attended the National Academy of Design from 1919 until 1922. He went to Europe in 1924, lived in both France and Italy and travelled in North Africa. After a brief return to New York, he returned to France in 1927, staying until 1929. His earliest work reflects the influence of Cézanne and the painters associated with the School of Paris.

After returning to the United States in 1929, he took up social themes, concentrating on series that focused on victims of social abuse and labor struggles, as is evident in The Passion of Sacco and Vanzetti (1931-32), and the Tom Mooney series (1932-33). His style for these works consisted of an emphatic, wiry line and expressive colors, applied with a ragged brushwork. Starting in 1932 his work was exhibited at the Downtown Gallery and represented by Edith Halpert. The following year Shahn assisted Diego Rivera in his ill-fated Rockefeller Center mural, as well as with the portable murals at the New Workers School on 14th. With Rivera's mentoring Shahn learned the fresco technique that he would utilize in the murals he painted for the WPA. Between 1935 and 1938, Shahn was a photographer for the Farm Security Administration, documenting rural life in Ohio and throughout the Midwest and South. Years later he based a number of his paintings on photographs from this period.

As a muralist Shahn completed major frescos during the WPA period at the school in Roosevelt, New Jersey, the Post Office Annex in the Bronx, and the Social Security Administration building in Washington, DC. In 1968 his outdoor mosaic mural on the subject of Sacco and Vanzetti was installed on the campus of Syracuse University. His murals all have the ability to tell complex socio-political narratives in a straightforward, formally elegant way comparable to the work of other great muralists of the past, such as Giotto, Masaccio and Diego Rivera.

During the immediate post-World War II period Shahn was a graphic designer for the CIO labor union, producing a significant number of posters and graphic advertising campaigns advocating important labor issues such as living wage, safety in the work place and the support of pro-labor candidates for public office. Throughout the 1950s and into the 1960s Shahn was a free-lance graphic designer for CBS, and also produced illustrations for Playboy, The Nation, American Heritage Magazine and Vintage paperbacks. Together with his good friend the painter Stuart Davis, he was on the faculty of the Famous Artists Correspondence School in Westport, Connecticut. Throughout his life he taught as a visiting professor at Harvard University, Washington University in St. Louis and at Skowhegan in Maine.

Politically Shahn evolved starting in the 1930s from a fellow traveler (close to, but never a member of the Communist Party) to an enthusiastic New Deal liberal who supported President Roosevelt. In 1948 he supported Henry Wallace for President, producing a major poster mocking both President Truman and Governor Dewey. By the 1950s, he was back in the Democratic Party supporting Adlai Stevenson and drawing anti-Eisenhower posters. In 1965 he supported President Johnson and created a number of satirical graphics ridiculing the radicalism of Senator Goldwater, the Republican candidate. In 1968, disillusioned with the Vietnam War, he volunteered on Senator Eugene McCarthy's campaign during the Democratic primary; he produced to major posters using the dove as a peace symbol.

Starting in the mid-1930s Shahn lived and worked in the homestead of Roosevelt, New Jersey, half an hour from Princeton. He mentored several generations of younger artists such as Jacob Lawrence, Leonard Baskin, Bernard Petlin, Peter Paone and James Kearns. Shahn died of heart failure in a New York City hospital in 1969. His second wife, the painter and illustrator Bernarda Bryson Shahn outlived him into the 21st century, living to almost 100 years of age.

His legacy as the leading artist of social protest within American Art of the 20th century remains undisputed.
William Paterson University
300 Pompton Road
Wayne, New Jersey 07470
973-720-2000