University Galleries and Collections
Past Exhibitions
March 4 – April 12, 2013

Court Gallery
Play Ink - Ink Play: Chinese Opera Painting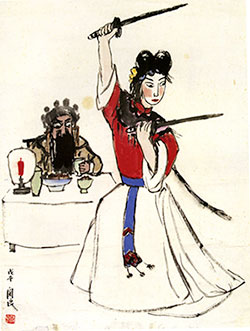 Ling Guan, Farewell My Concubine, 1970s, Chinese ink painting

Organized by Shanghai Liu Haisu Art Museum, China, this exhibition is presented in conjunction with the 2013 Cross Cultural Arts Festival, which is focused on North Asia. Through dynamic brushwork, the artists in this exhibition give visual form to the performers, instruments, and music of Chinese Opera.
South and East Galleries
A Women's View: New Chinese Art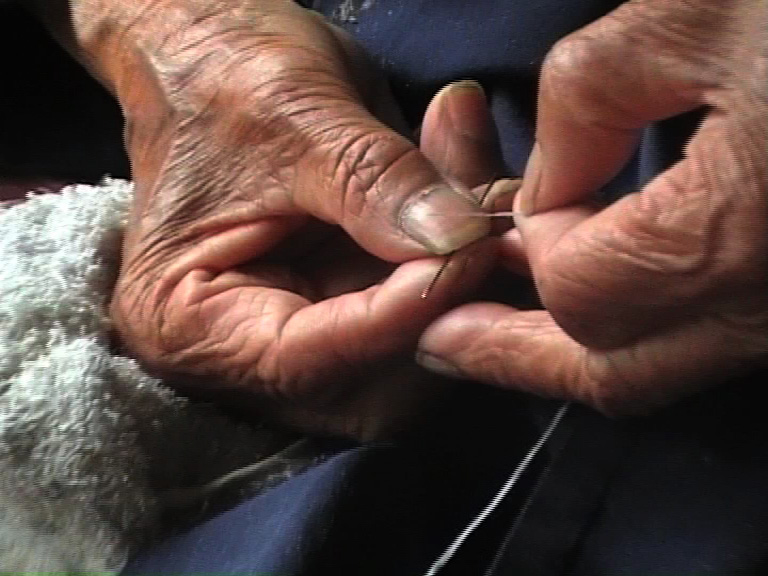 Tao Aimin, Vein, 2006, Three-channel video installation

Curated by Zhang-He, William Paterson associate professor of art, and Kristen Evangelista, director of University Galleries, this exhibition examines the work of contemporary Chinese women artists. The artists in the exhibition probe psychological and spiritual life to reflect on their personal identities and the relationship between the individual and society. Artists include: Cui Xiuwen, Huang Ying, Lin Tianmiao, and Tao Aimin.
---
January 22 – February 15, 2013
Court Gallery
Katie Murken: The Forest for the Trees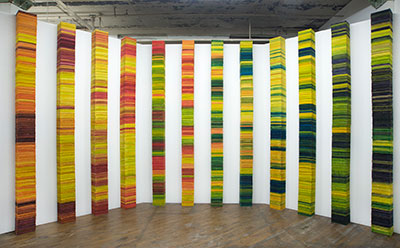 Katie Murken, Continua, Installation of dyed phone books, 2011


Katie Murken is the grand prize recipient of the 2012 American Impressions exhibition. Trained as a printmaker and book artist, Murken experiments with repeated forms and color to create site-specific installations of her hand-made objects, books, and drawings.
South and East Galleries
Ink, Press, Repeat 2013
National Juried Printmaking and Book Arts Exhibition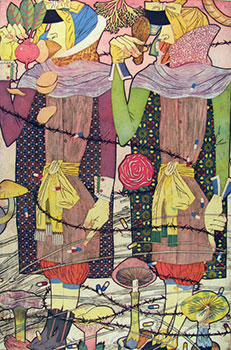 Yuji Hiratsuka, Beet Meets Meat, 2012, Intaglio

Juried by Jacob Lewis, Director of Pace Prints, Chelsea, this exhibition explores the way in which contemporary printmaking and artists' books incorporate new technology with the traditional forms of printmaking, such as etching, relief, lithography, and papermaking. This unique selection features the work of 32 artists hailing from 21 states.
Artists: David Avery, Douglas Barrett, Lori Biwer-Stewart, Marc Blumthal, Noah Breuer, Kristen Catlett, Kunyoung Chang, Tyrus Clutter, Diane Fine, Jenny Freestone, Paula Frisch, Jonathon Goebel, Kate Higley, Yuji Hiratsuka, Sueme Jeon, Robin Koss, Ahni Kruger, Alan Larkin, Anthony Lazorko, Val Lucas, Stephen Magsig, Moira Mosley-Duffy, Alice O'Neill, Howard Paine, Sheila Pitt, Kasey Ramirez, Michelle Ray, Meredith Setser, Ellen Singer, Micah Snyder, Joyce Ellen Weinstein, and Linda Whitney
---
November 11 – December 14, 2012
Court Gallery
Mexicanisimo Through Artists' Eyes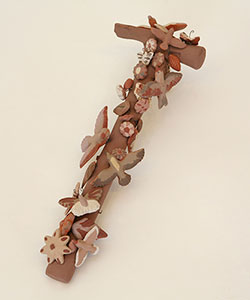 Margarita Cabrera, Pico (Pick), 2008, Ceramic

Mexican folk art, craft, and popular culture are a familiar visual vocabulary, and the artists in this exhibition reclaim traditional symbols and artisanal techniques to advance a deeper understanding of Mexican culture, identity, and history. This exhibition was initially organized by Kristen Evangelista for the San Jose Museum of Art and modified for William Paterson University.
Artists:Natalia Anciso, Margarita Cabrera, Enrique Chagoya, Colectivo "La Malagua," Jamex and Einar de la Torre, Máximo González, Gabriel Kuri, Franco Mondini-Ruiz, and Betsabée Romero.
South Gallery
Emma Wilcox: Where It Falls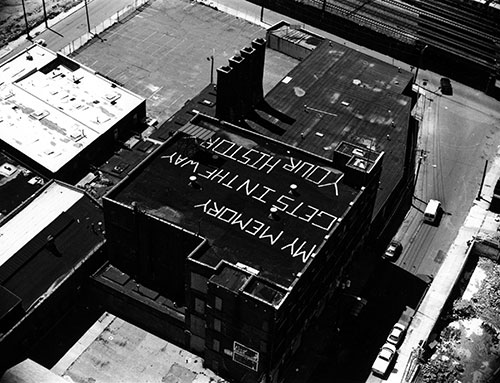 Emma Wilcox, "Eminent Domain No. 3," 2006

Organized by The Print Center, this exhibition showcases Emma Wilcox's haunting, enigmatic silver prints, taken primarily within a 5-mile radius of Newark, New Jersey that hint at crime, destruction, and violence.

Promesas (Promises)
This selection of historical and contemporary works investigates the same themes as Wilcox's photographs, revealing the idealism and harsh realities of urban planning. Organized by Emma Wilcox and The Print Center.

Including works by Scott Andresen, Bulletspace, John Fekner, Rosamond S. King, and Sarah McCann.
Unbound: Artists' Books from the Permanent Collection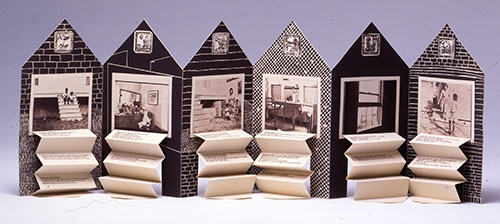 Clarissa Sligh, "What's Happening with Momma?," 1988
Drawn from the Artists' Book Collection, this selection of pop-up, foldout, and flipbooks reflects contemporary innovations in paper engineering. These bookmakers transform flat images and planes into multidimensional forms, contributing to the seven-hundred year history of moveable books.
---
September 10 – October 19, 2012
Court Gallery
Faculty Exhibition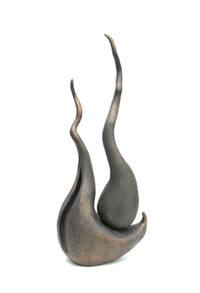 Elaine Lorenz, Beyond Bounds, 2012

This exhibition provides an introduction to the diverse artistic practices of the faculty of William Paterson University's Art Department.
Artists: Miriam Bisceglia, Giovanna Cecchetti, Kyle Coniglio, Angela DeLaura, Leslie Nobler, Barbara Friedman, Andrea Geller, David Horton, Carl Jablonski, Pamela Lawton, Alan Lazarus, Elaine Lorenz, Charles Magistro, Gina Miccinilli, Lily Prince, Lauren Razzore, Michael Rees, Robin Schwartz, David Shapiro, Gerald Slota, Jill Sluka, William Truran, and Tom Uhlein.
Whose World Is This? Jane Dickson and Charlie Ahearn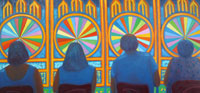 Jane Dickson, LV75 (Wheel of Fortune 2), 2012
Curated by WPU Adjunct Professor Deborah Frizzell, this exhibition explores the "call and response" artistic dialogue between painter Jane Dickson and filmmaker Charlie Ahearn. The renowned artist couple was integral to Colab (or Collaborative Projects), a radical artists' collective that defied artistic categories in New York City from 1978-1986.
Exhibition Essay

Press release
---
April 30 – June 2012, 2012
South Gallery
Profiles of the Future 2012: Student Art Association Exhibition
---
March 26 – April 27, 2012
Court Gallery
Con los santos no se juega / Don't Mess with the Saints

Organized in conjunction with the University's Cross-Cultural Arts Festival, this exhibition explores the role of spirituality in contemporary Latino, Latin American, and Caribbean art.
Working in mixed media, photography, installation, and performance, the artists in this exhibition reinterpret religious symbols from varied sources such as pre-Columbian cultures, Catholicism, and Santeria. By looking to the spiritual realm, these artists gain a deeper understanding of life and death and the meaning of our existence.
---
March 26 – April 20, 2012
South and East Galleries:
ViewPoints 2012: Studio Montclair's 15th Annual Open Juried Exhibition

Sponsored by Studio Montclair Inc., this international annual juried exhibition presents a diverse range of work by 43 contemporary artists. The juror is Alexandra Schwartz, Curator of Contemporary Art at the Montclair Art Museum, NJ. Studio Montclair Inc. is a non-profit organization of exhibiting professional and emerging artists and others interested in the visual arts. The mission of the organization is to promote culture and education in the visual arts.

---
January 30 – March 9, 2012
Court Gallery
Cerebral Spirits: Stalking the Self
Curated by Suzanne Anker
Artists: Suzanne Anker, Phil Buehler, Richard Dupont, Thomas Eller, Frank Gillette, Michael Rees, Katy Schimert, and Jeanne Silverthorne.
This exhibition explores the ways in which concepts in neuroscience research have been incorporated into visual art practice and contemporary culture. From mental illusions to hallucinations to representations of mood, these work address the intersections of body experience and mental affect through pictorial metaphor.
Cerebral Spirits is organized in conjunction with the Center for Computer Art and Animation. Panel discussion is co-sponsored by the Center for Computer Art and Animation.
South Gallery
American Impressions 2012: National Juried Printmaking and Book Art Exhibition
An insightful selection of contemporary prints and artists' books from across the U.S. juried by Elizabeth F. Spungen, Executive Director of The Print Center in Philadelphia, PA. Spungen has been on the curatorial staff at the Institute of Contemporary Art, The Fabric Workshop and Museum and Bryn Mawr College, and was President of the Chester Springs Studio and the Arcadia University Art Gallery. During her tenure at The Print Center, her curatorial efforts have included Black Pulse: Doug + Mike Starn (2007); Nakazora: space between sky and earth: Masao Yamamoto (2008); and Robert Asman: Silver Mine (2011).
Artists: Jennifer Anderson, Diana Behl, Frol Boundin, Sarah Bryant, Randy Clark, Donna Diamond, Nicholas Dowgwillo, Julia Elsas, Eduardo Fausti, Diane Fine and Maurio Laplante, Caroline Furr, Veronica Hanssens, Mary Hood, Cat Jensen, Andrew Kozlowski, Anthony Lazorko, Anna Mavromatis, Jonathan McFadden, Katie Murken, Alice O'Neill, Ryan Parker, Amy Pirkle, Nicolette Ross, Sara Sanders, Donna Savastio, Cynthia Thompson, and Josh Winkler
East Gallery
Karla Hackenmiller: Liminal Spaces

Karla Hackenmiller is the recipient of the 2011 American Impressions Award, selected by Anne Coffin. Her recent etchings, collages, and monoprints investigate linear patterns and give visual form to the limitless and constantly evolving thought processes of the brain. Hackenmiller regularly exhibits her work nationally and internationally and she is currently an Associate Professor at Ohio University, Athens. Her work is included in numerous public collections including the Grunwald Center for the Graphic Arts, Los Angeles, CA; the Bibliothèque nationale de France, Paris; and the Utah Museum of Fine Arts, Salt Lake City.
---
Exhibitions are made possible in part by a grant from the New Jersey State Council on the Arts, Department of State.

See additional past exhibition information:
William Paterson University
300 Pompton Road
Wayne, New Jersey 07470
973-720-2000