Faculty member and documentary Director Matt Crick's film "Creature Feature: 60 Years of the Gill-Man" screens at the Northeast Film Festival at the Teaneck Cinemas in Teaneck, New Jersey on September 6th at 2pm. Crick's film chronicles the history of the "Creature from the Black Lagoon" trilogy and the fandom surrounding this enduring 1954 classic. This documentary radically updates the original 2004 film, and contains never before seen footage, new interviews and over 100 new images and content and is presented in high-definition format.
2014 Lambda Pi Eta Induction Ceremony
Dr. Matt Crick, WPU Communication Dept. Professor and Lambda Pi Eta Advisor hosts the 2014 Induction Ceremony. Lambda Pi Eta is the Communication Department's honor society.

Media production professor Loretta McLaughlin interviews WPU sociology professor Jennifer Di Noia, PhD, who is the author of a study that reveals a list of "Powerhouse Fruits and Vegetables.
Click the link above to see the full interview.
WPTV-6 "Roundabout" host Caity Arthur wins Gracie Award for outstanding student TV host
Click the above link to learn more.
Communication professor Dr. Joann Lee featured on NJTV's presidential election night coverage
Click the above link to see the interview.

Theatre department holds performances of "Speaking in Tongues" by Andrew Bovell
"Speaking in Tongues" just completed an enormously well-received run in the Hunziker Black Box Theatre during the week of October 22. Communication students Stephan Bisaha, Anthony Caiola, and Catie Matteucci, along with English graduate student Roxanne Guarino, appeared in the production, directed by Jerry Beal.
Student Public Relations Association visits NYC PR firms and corporate communication departments
The Student Public Relations Association recently held their annual New York City trip. The club members visited Award-winning MWW Group, recently named Midsize Agency of the Year by the Holmes Group and a Top Place to Work by PR News where they met with senior executives from the consumer marketing group, corporate social responsibility/non-profit practice and the corporate practice, including a session with new senior vice president Vicky Ward, best-selling author and former Vanity Fair editor. At Marriott New York city the students learned from the public relations director and social media coordinator for the 14 New York area Marriott properties. They finished their day at boutique travel, real estate and food integrated PR firm Quinn & Co. where three recent William Paterson University public relations graduates now work.
Dr. Joann Lee is interviewed on NJ Today on media coverage of Governor Christie's April visit to Israel
Click the above link to see the interview.

Warren Buffet holds Q & A with select William Paterson students in attendance
William Paterson students from Communication and Business visited with Warren Buffet in Omaha on Jan. 13. Following a 2-hour long question and answer session, Mr. Buffett took everyone to lunch. Two WP students, Steve Parsons and Nicholas Bowman even got the chance to ride to lunch with Mr. Buffett in his car. The trip was an event hosted by Warren Buffett in which six universities were invited to participate.
University Theatres' production of "TOPDOG/UNDERDOG"
by Suzan-Lori Parks makes the news
Click the above link to see the WMBC-TV news coverage of University Theatre's presentation of Suzan-Lori Parks' play "Topdog/Underdog." Dr. Elizabeth Stroppel directed the play and WMBC-TV interviewed her and the cast.
WPSC creates the first ever College Radio Day
General Manager Rob Quicke collaborated with Peter Kreten of WXAV in Chicago to create the first day where college radio stations come together to raise awareness of the unique programming and hands-on training that college radio provides on campuses across the United States and Canada.
Student Public Relations Association releases their Pioneer PR Report
Follow the above link to review the SPRA's Pioneer PR report for the Spring 2011 semester. Learn what social media's impact is on the PR Industry, find out "what is Twitter", read about the social media breakdown, and much more.
Communication Department honors students at annual Maltese Awards
On May 3, Students from WPTV-6, WPSC, the Theatre Department and the Film Department were honored at the Maltese Awards for their innovative and creative content.
WPTV-6 Spring 2011 Telethon for Community FoodBank of New Jersey
Broadcasting live and original content from 10am to midnight, WPTV-6 successfully raised over $700 and collected 75 lbs. of food for the Community FoodBank of New Jersey on April 28th.
WPSC 88.7FM and WPTV-6 held their 3rd Annual Brave-athon
On March 25th 2011, WPSC 88.7 FM and WPTV-6 successfully broadcasted 15 hours of live bands on radio, TV, and the web, raising over $500 for the organizations. This year's "Bravery in Radio Award" was also given to Howard Stern and Robin Quivers.
WPTV-6 Fall 2010 Telethon for Parent Project Muscular Dystrophy
Broadcasting live and original content from 10am to midnight, WPTV-6 successfully raised over $1300 for Parent Project Muscular Dystrophy during their December 2 telethon.
William Paterson Introduces: President Kathleen Waldron
Televised interview with President Waldron conducted by alumna Arjona Dyrmishi '10, covering Waldron's goals, plans and interests.

Original Air Date: September 2, 2010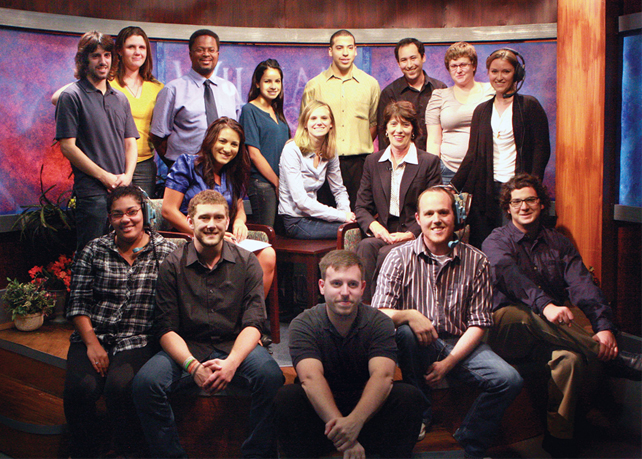 University Theatre: Communication Department
The program offers student from all disciplines the opportunity to participate in and observe the joys of theatre. There's a lot going on in the theatre program this year! Click to learn more!