Partners and Resources
The following are resources and partnerships that are available to help students make a difference in their community and beyond.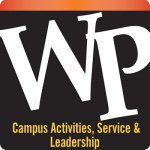 The Office of Campus Activities, Service, and Leadership (CASL) is a group of student-centered educators committed to purposeful and inclusive opportunities that consistently challenge and support student success. We provide a framework for the development of life skills including effective planning and communication, dedication to diversity, enhanced creativity, clarification of personal values and ethical behavior, and increased confidence. Our goal is to empower students to become actively engaged citizens. CASL coordinates many of the community and civic engagement, service, and leadership programs available to students, including the WP LEADS Digital Badge Program. The website provides resources for students seeking opportunities to get involved.

WP students can log their civic engagement and leadership activities throughout their academic career and earn recognition through the WP LEADS Digital Badge System. Students are automatically enrolled in the badge system when they enroll as a student and can start making progress towards their civic engagement badge during orientation – even before classes start! Click here to learn more about these and other badge opportunities.

Alternate Spring Break
Students at WP choose to devote part of their spring break to community service and civic engagement. For example, about 50 students spent three days during spring break working to improve facilities at the Newark YMCA's Camp Linwood Macdonald; students also have the opportunity to enroll in academic courses that include a spring break service component. In spring 2016, students studied the impact of Hurricane Katrina and participated in a spring break service trip to New Orleans.

The American Democracy Project (ADP) is a multi-campus initiative that seeks to create intellectual and experiential civic engagement opportunities for undergraduates enrolled at public institutions of higher learning. The goal of the project is to produce graduates who understand and are committed to engaging in meaningful actions as democratic citizens. ADP is a project of the American Association of State Colleges and Universities (AASCU), The New York Times, and the Carnegie Foundation.

TurboVote is both a partnership and a tool that the American Democracy Project team at William Paterson University has incorporated into its programming to engage student voters. A web-based application, TurboVote links its users to voter registration services, as well as reminders and other useful information about upcoming local and national elections. WP also participates in National Study of Student Learning, Voting and Engagement, a nation-wide research project operating out of the Tisch College of Citizenship and Public Service at Tufts University.

Campus Compact is a national coalition of more than 1,100 college and university presidents – representing some 6 million students – who are committed to fulfilling the civic purposes of higher education. WP is a founding member of the New Jersey Campus Compact (NJCC) chapter. University faculty, staff and students attend and present each fall at the Eastern Region Campus Compact Conference where attendees share best practices for community and civic engagement at colleges and universities throughout the eastern U.S.

Hosted at William Paterson University, United for Prevention in Passaic county (UPinPC) seeks to create environmental change relating to substance abuse by promoting awareness, communication, and support for all county residents. UPinPC works to prevent and reduce alcohol and drug abuse among the youth and adults of Passaic County by offering training, community education, sharing resources and encouraging collaboration among communities and agencies.

The Paterson Metropolitan Region Research Center seeks to promote a greater understanding of the history, importance, and contemporary relevance of the Paterson metropolitan area to North Jersey's citizens. Its primary mission will be to provide opportunities for faculty and student research about the region. In addition to connecting students from relevant undergraduate and graduate programs with community-based research projects, the center also sponsors an annual conference as well as special events on campus and in the region.

WP partners with and supports community service agencies through the Federal Work Study Program. Students who qualify for Federal Work Study may be employed by a wide range of non-profit community partners. This program also supports the America Reads Challenge, a tutoring program at local schools for children in grades K through 3.