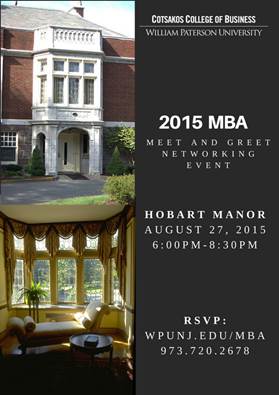 Welcome and thank you for your interest in our MBA program in the Cotsakos College of Business at William Paterson University. Students have the opportunity to choose to study either in a General MBA degree program or one of five exciting MBA concentrations in accounting, entrepreneurship, finance, marketing, and music management.
The Accounting concentration will enable students to pursue an MBA degree which satisfies the CPA examination education requirements while preparing for their CPA examinations. The MBA concentration in Entrepreneurship will enable graduates to develop the skills needed to enter and sustain a career in Entrepreneurship. The Finance concentration will enable students to pursue an MBA degree while preparing for their CFA examinations. The Marketing concentration will combine the leading-edge marketing principles wih modern technology and tools to prepare our graduates to become a marketing leader. The Concentration in Music Management is one of only a few offered in the US and takes advantage of our proximity to NYC to offer graduate students the opportunity to immerse themselves in the industry environment.
The goal of our Master of Business Administration program is to prepare our students for roles as effective organizational contributors in an increasingly diversified and competitive business environment. This is accomplished through the delivery of a dynamic curriculum that is continually undergoing review and revision to meet the changing demands of an internationally and technologically oriented marketplace.
Features of the Program
The Master of Business Administration (MBA) program features a cross-functional pedagogical approach. As such, textural components embodied within the business environment are interwoven throughout the curriculum. These components, or perspectives, include but are not limited to ethical, political, regulatory and social influences on organizations. An emphasis is placed on the acquisition of and/or refinement of communication skills, quantitative analysis, and technological applications within the context of business. Areas of core competency are emphasized in the eighteen lower core credit hours: these areas include financial reporting, analysis and markets, domestic and global economic environments of organizations, management information systems, and human behavior in organizations. The upper core courses (either 15 credit hours or 12 credit hours depending on your choice of concentration) focus on the integration of the lower core areas with the application of cross-functional approaches into organizational issues.
The MBA curriculum also offers a broad range of elective courses in each of the schools' four departments: Accounting and Law; Economics, Finance, and Global Business; Marketing and Management Sciences, and Professional Sales. The program's rigorous coursework requires a familiarity with requisite quantitative and technological concepts. Upon enrollment, students are encouraged to take screening examinations in 1) quantitative analysis and 2) technology, and are advised on taking introductory courses in those areas if necessary.
The Cotsakos College of Business has received accreditation from AACSB International—The Association to Advance Collegiate Schools of Business. AACSB accreditation represents the highest standard of achievement for business schools worldwide. Only about 5% Business Schools in the world are accredited by AACSB.