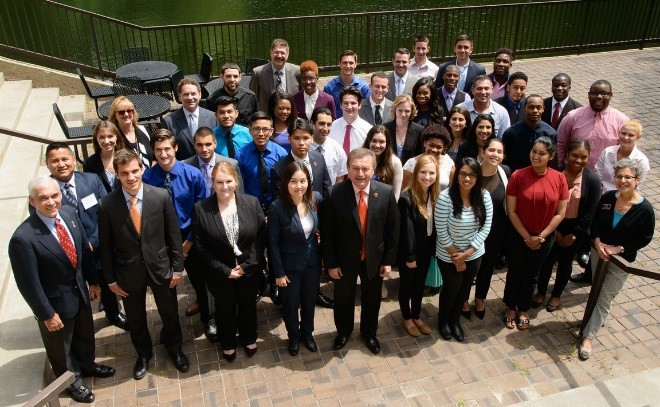 ---
COIN 2016 Boot Camp has been moved!
Due to HVAC issues at the Valley Road campus, COIN 2016 will take place in the Student Center's Multi-Purpose Room.
---
The Cotsakos College of Business offers many experiential learning opportunities to its students including internships, business practicums, professional enrichment workships (PE) case competitions, and mentoring programs, among others. The Crux of Industry Niche (the COIN) is an initiative that provides industry-focusd and scalable boot camps to supplement the existing programs at the Cotsakos College of Business.
In August of 2015, the College offered it's Inaugural Boot Camp. The focus was on the Banking, Financial Services and Insurance sector. Eighteen leaders from industry spoke to nearly 50 students, culminating in a barbecue on the patio of the Valley Road campus.
In addition, 38 students and faculty members from our sister university in China, Zhejiang University of Technology, also participated during their 3 week hands-on finance training.
Ten scholarships were awarded, including one that was funded by the faculty and staff of the Cotsakos College of Business. The event was featured in NJBiz.

We are pleased to announce COIN 2016! This summer's annual industry boot camp is scheduled from August 1st through 4th, 2016 at the Student Center Multi-Purpose Room. Each day, sign-in (with light breakfast) will begin at 8:30 AM. Workshops will run from 9:00 AM through about 3:30 PM. Lunch will be provided.
The Keynote Address will be delivered Monday morning at 9:00 by Mr. Lawrence (Larry) Levine, Director of Client Experience at Peapack-Gladstone Bank.
This year's focus will be on four different industry sectors: Healthcare & Health Insurance, Real Estate, Banking & Credit Analysis, Food Services & Distribution, and Human Resources & Financial Services.
Monday's Speakers
Tuesday's Speakers
Wednesday's Speakers
Thursday's Speakers
We will wrap up the week on Thursday afternoon with a Barbeque Networking Event during which a drawing for several scholarships will be held.