Cotsakos College of Business
New Faculty Spotlight
Fall 2012
________________________________________________________________________
Bahar Ashnai
Professional Sales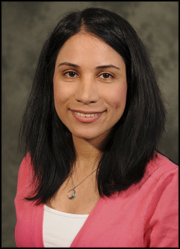 Bahar Ashnai received a Ph.D. from the University of Manchester. Her research has appeared in academic journals such as Industrial Marketing Management, Journal of Business and Industrial Marketing, and Total Quality Management and Business Excellence. Ashnai has presented at a number of conferences including the American Marketing Association, Industrial Marketing and Purchasing, and the Academy of Marketing Science. Her primary interests are business-to-business marketing and selling, buyer-seller relationships, international marketing/selling and quantitative methods. Her research contributes to understanding how businesses can enhance their sales growth and performance, successfully manage buyer-seller relationships, manage and handle complaints, build trust, motivate cooperative behavior in business relationships and networks, and improve inter-functional collaboration. Ashnai's work has implications with regard to selecting and training personnel, especially in the sales force. Her focus on firms' sales and marketing strategies in a global environment makes her research very timely for business managers.
________________________________________________________________________
Chen-Ho (Mike) Chao
Marketing and Management Sciences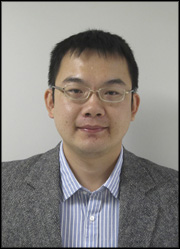 Mike Chao holds a Ph.D. in Marketing and International Business from Saint Louis University and joins the Cotsakos College of Business from Baruch College. Chao's research and teaching interests center on the internationalization/regionalization of multinational enterprises (MNEs), standardization vs. localization of their Web sites, and country-of-origin (COO) effects in international marketing. The results of his research provide guidance to business managers such as a recent article that argues that international marketing managers should try to find solutions to the problems caused by the complexity of product diversification and that adopting an international diversification strategy appears to be a good option. His research has appeared in academic journals such as the Journal of International Marketing and the International Marketing Review. He has presented numerous papers at the annual meetings of academic associations such as the American Marketing Association and the Academy of Management.
________________________________________________________________________
Shan Feng
Marketing and Management Sciences
(Appointed Fall 2011)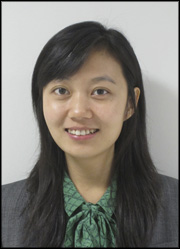 Shan Feng earned her Ph.D. in Marketing from Drexel University. Her research interests focus on behavioral pricing and the role of memory in consumers' information processing. For example, her research shed some light on when and how consumers are more likely to use price information as a quality indicator in product evaluation. Her research also explored how working memory capacity affects the use of consumer product knowledge in such evaluation. Feng has presented her research in many national academic conferences such as American Marketing Association Annual Conference, Academy of Marketing Science Annual Conference, and Association for Consumer Research Conference. Prior to earning her Ph.D., Feng worked for a marketing research firm in China. She also consulted for China National Packaging Import & Export Corporation.
________________________________________________________________________
Kwang Joo (KJ) Koo
Accounting and Law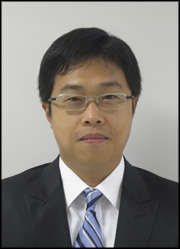 KJ Koo holds a Ph.D. in Accounting from Drexel University concentrating in Accounting. His research interests focus on empirical analysis of data collected from different companies to address complex or emerging problems of importance to CEOs and managers. For example, his research in accounting addresses questions pertaining to performance measurement, incentive compensation, strategic cost behavior, and audit quality analysis while his research in business strategy includes corporate governance, business ecosystems, and family firms. Koo has presented his research at academic conferences, both at the national and the regional level. His corporate experience includes employment at GM Korea, Samsung Thales, and A.T. Kearney. Koo was also involved in and supported MLB Columns, Economics Columns, and the Korean American community.
________________________________________________________________________
Sudha Mani
Professional Sales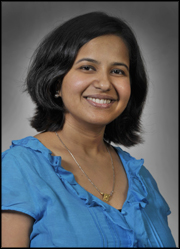 Sudha Mani earned her Ph.D. in Marketing from the Ivey School of Business, University of Western Ontario, Canada. Her research interests lie in the management of domestic and international inter-organizational relationships and her research has been published in the Strategic Management Journal.. In particular, she adopts a quantitative approach to understand the initiation and maintenance of formal ties (alliances and channel relationships) and the performance implications of such ties. For instance, her research in the bio-pharmaceutical industry provides managers with a realistic assessment of both the upside and downside to alliance formation. Her work on franchise relationships throws light on how interfirm relationships characterized by high interdependence affect firm survival. Prior to earning her Ph.D., Mani worked for several years as an account manager for an advertising agency in India where she was responsible for managing various key accounts for the company.
________________________________________________________________________
Priya Nagaraj
Economics, Finance, and Global Business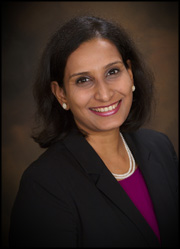 Priya Nagaraj received a Ph.D. in Economics from the City University of New York. Her primary research interest is in the field of international trade and industrial organization. In her research, she studies the effect of firm characteristics (like firm size, ownership, financial health, exports and import status) on its decision making, performance and growth. She is particularly interested in the relation between a firm's financial health and its exporting decision. Nagaraj's research contributes to business managers' understanding of the effect of government policy and global economic environment on firm performance. She is an active researcher and has presented her research at various conferences. Prior to her academic career, Nagaraj has held various corporate positions in sales and marketing in the service sector.
________________________________________________________________________
Sharon Simmons
Marketing and Management Sciences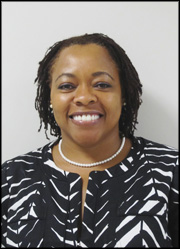 Sharon Simmons holds both a Ph.D. in Entrepreneurship and Emerging Enterprises from Syracuse University and a JD from the University of Virginia School of Law. Her primary research stream focuses on institutional and cognitive influences on the entrepreneurial activities of experienced entrepreneurs. Other facets of her research interests are the gender gap in entrepreneurship and the commercialization strategies of entrepreneurs who spin-off university technology. Simmons has extensive senior management experience with a multinational professional services firm, where her job responsibilities included the development of national tax planning strategies for medium and large firms. In addition, she has entrepreneurial experience as the owner of a family restaurant enterprise that was successful for over 30 years and as the principal of a real estate limited liability company. She is a licensed CPA in the State of New Jersey.
________________________________________________________________________
Duncan Williams
Economics, Finance, and Global Business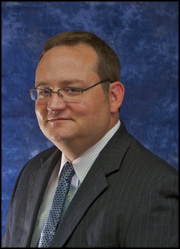 Duncan Williams, CFP®, is a Ph. D. candidate in Personal Financial Planning (expected 2012) at Texas Tech University. His research is focused on household portfolio management and retirement planning, with a particular emphasis on post-retirement distribution planning. His research on optimal withdrawal rates has been published in the Retirement Management Journal and The Journal of Financial Planning. He is passionate about helping academia serve the financial services industry and advancing the financial planning profession. Williams has served on the board of the Financial Planning Association (FPA) of Georgia and as President of FPA of West Texas. Nationally, he serves on the Academic Advisory Council of The Journal of Financial Planning and on the Curriculum Advisory Board for the Retirement Management Analyst designation. He is a frequent speaker at industry association meetings and conferences. Previously, Williams worked as a practitioner for 10 years in Atlanta.