Department of Marketing and Management Sciences
Dr. Rajiv Kashyap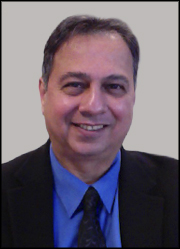 Office: V4050
Phone: 973-720-2964
Email:KashyapR@wpunj.edu
Office Hours: By appointment

Department: Marketing and Management
Position: Interim Dean and Professor
Area Specialization: Strategic marketing and social marketing
URL: http://www.wpunj.edu/ccob/departments/marketing-management/faculty/kashyap-rajiv/kashyap.dot

Professional Degrees:
Ph.D., Marketing, University of Massachusetts, Amherst
MS, HRTA, University of Massachusetts, Amherst
B.Sc., Chemistry, Bombay University
Previous Appointments:
Assistant Professor, Indiana Purdue University, Fort Wayne
Assistant Professor, University of Massachusetts Amherst
Primary Research Interests:
Strategic marketing and social marketing

Representative Publications:
Agnihotri, Raj, Prabakar Kothandaraman, Rajiv Kashyap, and Ramendra Singh (2012), " Bringing "Social" into Sales: The Impact of Salesperson's Social Media Use on Service Behaviors And Value Creation," Journal of Personal Selling and Sales Management, vol. XXXII, no. 3 (summer 2012), pp. 335–350.
Iyer, Easwar S., Rajiv K. Kashyap, and William D. Diamond, (2012), Charitable Giving: Even the Willing need to be Persuaded," Journal of Current Issues and Research in Advertising, 33 (1), 115-127.
Kashyap, Rajiv K. and Easwar S. Iyer, (2009), "Not Everybody Wants to Save the World," Journal of Financial Services Marketing, 14 (2), 118-134.
Iyer, Easwar S. and Rajiv Kashyap (2009), "Noneconomic Goals of Investors," Journal of Consumer Behaviour, 8(5), 225-237.
Kashyap,Rajiv K. Easwar S. Iyer, and Bobby 'Subhabrata' Bannerjee, (2009), "The Relationship Between Corporate and Individual Environmental Responsibility," in Felix Saito (Ed.), Consumer Behavior, Nova Science Publishers, 1-26.
Li, Fuan, Joe Zhou, Rajiv K. Kashyap, and Zhilin Yang, (2008) "Brand Trust as a Second Order Factor: An Alternative Measurement Model," International Journal of Market Research, 50 (6), 817-830.
Iyer, Easwar and Rajiv K. Kashyap (2007), "Consumer Recycling: Role of Incentives, Information, and Social Class," Journal of Consumer Behaviour, 6 (February), 32-47.
Kashyap, Rajiv K., Raza Mir, and Easwar S. Iyer, (2006) "Toward A Responsive Pedagogy: Linking Social Responsibility to Firm Performance Issues in The Classroom," Academy of Management Learning and Education, 5 (September), 366-376.
Banerjee, Subhabrata Bobby, Easwar Iyer, and Rajiv K. Kashyap (2003), "Corporate Environmentalism: Antecedents and Influence of Industry Type," Journal of Marketing, 67 (April), 106-122.
Representative Industrial Work/Consulting Experience:
Strategic marketing, social marketing and feasibility studies