Department of Economics, Finance and Global Business
Dr. Martin Gritsch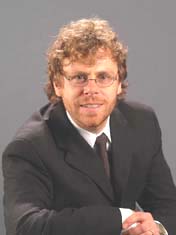 Office: VRB 3046
Phone: 973-720-2977
Email:gritschm@wpunj.edu
Office Hours: by appointment

Department: Economics, Finance and GlobalBus
Position: Professor of Economics and Director of AACSB Continuous Improvement
Area Specialization: Labor Economics, Immigration, Education, Executive Compensation, Taxation, Sports Economics

Professional Degrees
Ph.D. in Economics, Texas A&M University, 2000
Diplom-Volkswirt, University of Siegen, Germany, 1995
Primary Research Interests
Labor economics
Immigration
Education
Executive compensation
Taxation
Sports economics
Representative Publications
"Taxing Options: The Impact of the Favorable Tax Treatment of Stock Options on CEO Compensation" (co-author: Tricia C. Snyder), Eastern Economic Journal, 2007, 33(3), pp. 343-57.
"Some Suggestions for Teaching Ethics in Business," Journal of College Teaching & Learning, 2007, 4(7), pp. 37-40.
"Public Vs. Private Schools: The Impact on Wage Rates," The Journal of Economics and Economic Education Research, 2006, 7(3), pp.3-17.
"The Impact of Current Tax Policy on CEO Stock Option Compensation: A Quantile Analysis" (co-author: Tricia C. Snyder), Academy of Accounting and Financial Studies Journal, 2005, 9(3), pp. 119-31.
"The Effects of Immigration: An Examination of Relative Wages in California's Agriculture," Journal of Business and Economics Research, July 2003, 1(7), pp. 25-31.
Teaching
Statistics (undergraduate and graduate)
Econometrics
Microeconomic Principles
Macroeconomic Principles
Operations Management (undergraduate and graduate)
Money and Banking
Representative Work/Consulting Experience
NJ Department of Labor
Deutsche Bank
John Wiley & Sons
Pearson - Prentice Hall
Wayne Public School District
BLG Bizerba Leasing
Referee: Economica, Eastern Economic Journal, Economic Inquiry
Administrative Experience
Interim Associate Dean (2007/08, 2012/13)