Previous Events and Programs from Fall 2010 to Fall 2011

Ten Year Anniversary Celebration of the Summer Art in China Study Abroad Program



Thursday, May 19, 2011

Over the past 10 years, numerous individuals 

have given their time, 

money, and wisdom to 

fund and operate the Summer Art in China 

project. 

We express immense gratitude for the people 

responsible for 

advocating and contributing to 

this life changing summer program. 

For these 

efforts have enabled 107 students and faculty

of both the art 

program and academia to come

together and embrace China's historic 

creativity 

and culture. On behalf of all whom have benefited 

from the 

previous 10 years of this program,

we thank everyone involved in the 

process.




6:00 to 9:00 P.M.

 


We celebrated the continued longevity of the program,

and presented 

certificates from Margaret Lam and

David Yen's Fellowship Ceremony for Summer Art in 

China 2011.



"In 2011 we represent the 4th generation of students 

to make this journey, 

with previous excursions having 

happened in 2001, 2005, and 2008."




Location: 

Power Arts Center

, 25 Power Avenue, Wayne, NJ




2011 Chinese New Year Celebration: Year of the Rabbit
Thursday, February 17, 2011

In celebration of the 2011 Chinese New Year, the year of the Rabbit, the Center for Chinese Art, in conjunction with the Art Department and the College of Art and Communication at William Paterson University will host an evening of events and performances.

3:30 P.M.
Lecture and Demonstration: Chinese Ink Painting
by Mr. LIU Yong, renowned artist, photographer, and arts editor from Beijing, China

5:00 to 8:00 P.M.
Introductions and New Year's tidings
Chinese Lion Dance by CBA Culture and Arts Center
Chinese Music ensemble by CBA Culture and Arts Center
Erhu solo performance by Mr. Bao'an Cao
Percussion performance by WPUNJ Percussion Ensemble
Chinese Food Banquet

This event is open to the public and free of charge.

Location: Power Arts Center, 25 Power Avenue, Wayne, NJ

For more information about this event, or about the Center for Chinese Art, please call the Center at 973.720.2799 or email ccart@wpunj.edu.
Ink Rhythm from River and Sea: Inheritance and Innovation
An Exhibition from Nantong Institute of Calligraphy and Chinese Painting

Exhibition date: October 21- November 26, 2010

October 21, 2010


2:00pm - 4:00pm
Chinese Painting Demonstrations
by visiting artists from Nantong, China

4:00pm - 5:00pm
Panel Discussion: Modern Themes in Traditional Techniques

A panel of featured artists will discuss traditional art making techniques used to present themes from modern life in China with a question and answer period.

Panelists: Zhiyuan Cong and Visiting Artists

5:00pm - 7:00pm
Opening Reception



Location: South Gallery
Ben Shahn Center for the Visual Arts
William Paterson University
Pompton Rd, Wayne, NJ 07470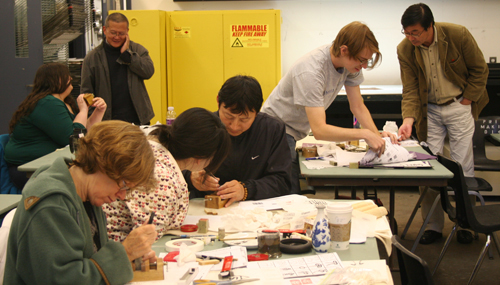 Chinese Painting and Seal Carving Workshops
ARTS 399-01; 599-02 (3 hours credit)
Friday, Saturday and Sunday from 9:00 am to 5:00 p.m.
10/01/2001; 10/08/-10/10/2010; 10/15-10/17/2010 and 10/22-24/2010
Location: Room 144, Power Art Center
Instructors: Zhiyuan Cong; Kang Rong; Hou Dejian; Dong Chengwei; Zhu Jianzhong
International Student Exchange Exhibition from Taipei National University of the Arts and William Paterson University
Exhibition dates: September 25 – October 15, 2010

Opening Reception: September 30, 2010 from 5:00pm - 7:00pm

Location: Power Art Gallery
William Paterson University
25 Power Art Center, Wayne NJ 07470

The Department of Art and Center for Chinese Art at William Paterson University cordially invite you and your guests to the opening reception of the International Students Exchange Exhibition from Taipei National University of the Arts and William Paterson University. More than 40 printmaking works by undergraduate and graduate students from Taipei National University of the Arts and William Paterson University will be exhibited at Power Art Gallery, William Paterson University.

For more information, please call at 973.720.2799 or email ccart@wpunj.edu
Center for Chinese Art Anniversary Celebration: September 8, 2010
Celebrating the one-year anniversary of the Center for Chinese Art at William Paterson University, and in honor of the support from our founders Margaret Lam and David Yen, the Center will host a day of events. The program will include a lecture, an anniversary celebration, book signing for the Center's newly published book, and a screening of a Chinese film followed by a discussion with the movie stars Lu Liping and Sun Haiyan.

2:00pm to 4:00pm

Lecture and Demonstration:
Qi Baishi: A Master of Chinese Painting
Presented by Professor Zhiyuan Cong

4:00pm to 5:00pm

Anniversary celebration and book signing for the Center's newly published book, Qi Baishi: The Soul of Chinese Painting

Location: Power Art Gallery
Power Art Center
25 Power Ave.
Wayne, NJ 07470

5:30pm to 7:30pm

Presentation of the Chinese film Shanghai Woman, starring the actors Lu Liping and Sun Haiyan

7:30pm to 9:30pm

Movie stars Lu Liping and Sun Haiyan discuss their films

Location: David and Lorraine Cheng Library auditorium
William Paterson University
300 Pompton Road
Wayne, NJ 07470