William Paterson University's Summer Youth Programs Named Among Top 25 in Nation by Hispanic Outlook on Education
-- University's School of Continuing and Professional Education offers programs for Grades K to 12, exposes students to college-level material, emphasizes STEM/STEAM, and offers a hands-on approach to learning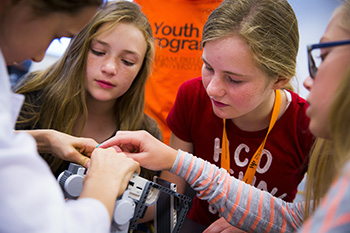 William Paterson University's Pre-College Summer Youth Programs were named among the top 25 programs in the nation by Hispanic Outlook on Education in their March 2017 issue. The programs are administered by the University's School of Continuing and Professional Education.
The selection process focused on Hispanic-serving institutions that offer programs for grades K to 12, expose students to college-level material, emphasize STEM (science, technology, engineering, and math) and STEAM, which adds art to the mix, and incorporate a hands-on learning approach to learning. William Paterson's Summer Youth programs were recognized for achieving success in each of these areas.
"We are honored to be named among the top 25 summer youth programs by Hispanic Outlook in Education and continually strive for excellence," says Bernadette Tiernan, executive director of the School of Continuing and Professional Education. "Over the past decade, our programs have expanded to include a full set of summer academies focused on the sciences, arts and communication, college preparation and more."
William Paterson's Pre-College Program for High School Students immerses students in grades 9 to 12 in a unique university summer experience from July to August. Participants choose from more than 60 programs and stay in the residence halls or commute. The program gives students a sampling of different career possibilities to discover their abilities or talents.
Middle School Workshops for students entering grades 6 to 8 in September are designed to stimulate pre-teen and teen imaginations and creativity.
The Summer Life on Campus Program is a summer day camp for students entering grades 4 to 9. Ideal for working parents, the program runs Monday to Friday, 8 a.m. to 6 p.m. from late June to early August.
A new summer 2017 International Youth program will welcome a group of 200 international high school students and chaperones from July 5 to August 10, 2017.

For additional information about the William Paterson School of Continuing and Professional Education Pre-College Summer Youth Programs, call 973.720.2354, visit the website at wpunj.edu/youthprograms, or email youthprograms@wpunj.edu.
04/04/17