University Hall Certified as LEED Gold by the U.S. Green Building Council for its Sustainability, Energy Efficiency and Environmental Quality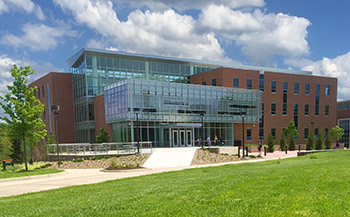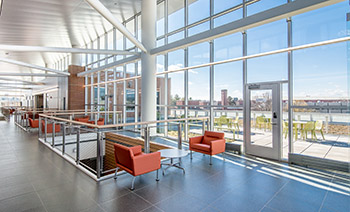 William Paterson University's newest academic building, University Hall, has been certified as LEED Gold by the U.S. Green Building Council (USGBC) for its sustainability, savings, energy efficiency and environmental quality. The LEED (Leadership in Energy and Environmental Design) rating system is the most widely used, internationally recognized, third-party verification for green building certification.
"We are very proud that University Hall achieved LEED Gold certification, the globally recognized symbol of sustainability achievement," says Kathleen Waldron, president of William Paterson University. "At William Paterson, we are committed to making the University a fully green institution, and this beautiful, energy-efficient building is an example of that commitment."
University Hall achieved LEED certification for implementing practical and measurable strategies and solutions aimed at achieving high performance in: sustainable site development, water savings, energy efficiency, materials selection and indoor environmental quality. The project team included AKF Engineers, Dobco, Inc., Horizon Engineering Associates, NK Architects, and Structure Studio.
The building is the home for the University's programs in nursing, public health and communication disorders. A combination of general academic classrooms, nursing simulation labs and academic offices are anchored by a café, collaborative spaces, and a three-story open-glass atrium. The University's Speech and Hearing Clinic, which provides a full range of diagnostic and therapeutic services for the community, is located on the lower level.
University Hall opened in January 2016 and was the first step in a plan to modernize facilities in the academic core of the campus. The project was funded in part by $30 million from the state's "Building our Future" Bond Act.
06/20/17