Doctoral and Master's Degree Graduates Celebrate Commencement
More than 400 degrees awarded during May 17 ceremony on campus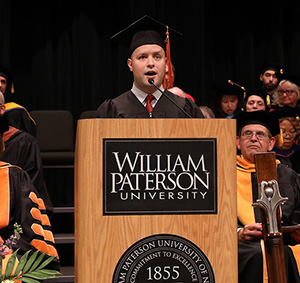 Francisco Ocasio '10, MEd '17
William Paterson's newest doctoral and master's degree graduates celebrated their achievements along with their family and friends during the University's Graduate Commencement ceremony on May 17 in Shea Center on campus.
See all free downloadable photos here: http://wpunj.us/Fk9ymb
The graduates, who gathered in University Hall before the ceremony, processed to Shea Center on a warm spring evening along a path festooned with black and orange balloon arches and displays. During the ceremony, each degree candidate processed individually across the stage to receive their doctoral or master's degree hood and diploma. Eleven graduates were awarded doctor of nursing practice degrees, while nearly 400 students were awarded master's degrees in 25 fields.
President Kathleen Waldron notes that only about 8 percent of the population in the United States hold master's degrees, while only 1 percent hold doctoral degrees. "Today, William Paterson University adds another 410 people to those distinguished groups," she said. "You have the intellect, the drive, the determination and the support that distinguishes you among your peers…We expect you to step to the front of the line and assume a place of leadership in our society."
Francisco Ocasio '10, who earned a master of education degree in educational leadership, spoke about growing up in Newark and realizing in the sixth grade that he didn't know how to read. "I started to give up," he said, but a spark "gave me the strength, it gave me the will, and it gave me the power to hope for a better life." Ocasio, who is currently an eighth grade language arts teacher in Paterson, encouraged his fellow graduates to think about their journeys. "We are all here because a moment changed our lives forever," he continued. "Never forget that spark. It ignites the awakening for better opportunities and better experiences…We must always remember the spark that makes us human, that makes us the loving, warm people that can create positive change within our world."
Watch the 2017 Graduate commencement ceremony
05/18/17