William Paterson University Captures 2017 National Collegiate Club Bowling Championship
--WP Bowling Team now advances to Intercollegiate Team Championships in Baton Rouge, LA on April 19 to 22, where they placed second in 2016
William Paterson University's Bowling Team won the 2017 National Collegiate Club Bowling Championship this past weekend in Indianapolis, Indiana.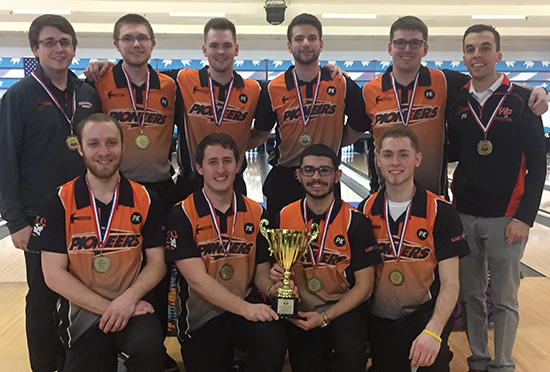 Left to right, bottom row: Brandon Runk, Steve Kotowski, Nick Campanelli, Justin Carl. Top row: Assistant Coach Andrew Suscreba '14', MBA '17, Steve Greco, Corey Hommel, Jake Rollins, Andrew Dekowski, Head Coach Greg Hatzisavvas '08, MS '12
The top 24 men's teams and top 16 women's teams from around the country were invited to participate. William Paterson men placed very well in a qualifying tournament and had earned a first-round bye. They then beat Illinois State 3-0, California State Fresno 3-0, Morehead State 3-0, and finally Purdue University 3-0 then 3-2 to win the 2017 National Championship.
Jake Rollins, a junior, was named tournament MVP and Andrew Dekowski, a sophomore, was named to the first team all-tournament team. The team now looks to Collegiate Team Championships held in Baton Rouge, Louisiana, April 19 to 22. This tournament allows the best bowling programs in the nation to compete against each other regardless of club, athletic, or NAIA status. William Paterson University placed second in this event last year.
Head coach Greg Hatzisavvas is a William Paterson graduate, with a BS in physical education in 2008 and a master's degree in exercise and sport studies in 2012. Assistant coach Andrew Suscreba '14, MBA '17, is also a William Paterson graduate.
04/10/17