Sometimes the Most Interesting Story a Writer Can Tell is Her Own
William Paterson University alum worked as magazine's editor-in-chief before she even graduated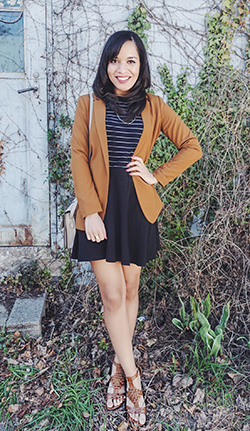 Megan Portorreal '13 Photo credit: Erik Kovac
Megan Portorreal '13 became editor-in-chief of an online fashion and lifestyle magazine during her junior year at William Paterson. She was 21 years old and she had no management experience. What she did have was a knack for writing, a ton of initiative and a solid work ethic.
Cliché Magazine was launched as a small start-up in 2009 when Portorreal was 18 years old. The company posted a bulletin on MySpace announcing opportunities for unpaid interns who could write, and the college freshman responded. She spent the next two years writing and copy-editing for Cliché pro bono while working part-time as a writing tutor at Passaic Community College, where she began her undergraduate career.
In 2011, when the owner/editor-in-chief of Cliché sold to a private investor who lacked magazine experience, all of the publication's writers left. Portorreal, however, emailed the new CEO to say she was still interested in being part of the team.
It turns out she was the only member of the Cliché staff to contact the new CEO. Having heard good things about Portorreal from the magazine's previous owner, and needing a creative person who had a working knowledge of the online publishing industry, the new CEO took a chance. He offered a college student the job of editor-in-chief. Portorreal also took a chance. She accepted, becoming editor-in-chief of a magazine that had virtually no staff.
She eventually gathered about 10 William Paterson classmates who would meet in Cheng Library to work on the magazine with her for little to no compensation. With that, the new Cliché Magazine was born. Meanwhile, in between reading books about how to be an editor, "winging" a lot of her new job and making mistakes along the way, Portorreal maintained her fulltime status at William Paterson, stayed on the dean's list, and graduated on time in May 2013.
"I worked a lot, really hard. I was just working all the time. You have to make sacrifices," Portorreal says. "I didn't have many friends; I didn't go to college parties. On the weekends, I was constantly doing homework to graduate on time. I had two friends and they understood that I wasn't going to see them all the time."
Portorreal happily remains editor-in-chief of a now quite successful Cliché, which boasts a monthly readership of more than 50,000. She manages all of the bi-monthly magazine's content, its blog, and more than 40 editorial staffers comprised of writers, editors, copy editors, web producers and graphic designers. She has been backstage with Banana Republic at New York Fashion Week, spoke on a fashion panel in New York City for aspiring fashion designers from FIT – offering the editorial voice about what the press looks for in fashion coverage – and had fans so eager for a recent issue that featured pop group Fifth Harmony's Normani Kordei that the photographs for a corresponding story were leaked a day before the magazine's publication.
"I was so excited when we were leaked," Portorreal says, laughing. "That's the first time that's happened. It felt like, 'Wow; we're official. We're leaked!'"
Portorreal says the University, and two of its professors in particular, put her on a path to success.
A course in book and magazine editing taught by adjunct professor Theresa DiGeronomo '75, MEd '84, Portorreal says, really set her up to know what to expect as editor-in-chief and how to tackle many of the tasks associated with that title, such as building a press kit and pitching a story.
An internship class led by English professor Martha Witt, the alum says, was also invaluable in teaching her to make the most of her non-academic undergraduate experiences. The two still keep in touch, with Witt recommending promising students in her classes for internships at Cliché. Through the years, Portorreal has recruited several interns from her alma mater.
Though making it professionally as a writer/editor isn't easy, Portorreal urges William Paterson students to work toward their dreams – with patience.
"Our generation, I'm 25, I feel like we want instant results, and if we don't get that, if we don't have a dream career in 6 months or a year, we give up and get frustrated and become something else. Especially for writing majors, you really just need patience," she says. "You need experience. You might need to do free work in the beginning to get experience, but then people will hire you. Don't lose sight of the prize."
Follow Megan Portorreal on Instagram/Twitter @meganportorreal and via www.meganportorreal.com.
01/18/17