Pioneer Power
Michael Mendillo '88, President, Atlantic Region, FirstService Residential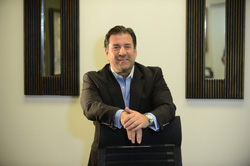 Q: Who is FirstService Residential?
A: FirstService Residential provides full-service, professional association management services to more than 6,500 properties and over 1.5 million residential units across 21 U.S. states and three provinces in Canada, which include condominiums, home owner associations, large-scale lifestyle communities, high-rise properties, as well as rental management. We work with communities managing the physical aspect of the property as well as helping create and develop a culture within their community that makes it enjoyable to live in.
Q: How would you describe your type of company?
A: We're a service business from a high-level standpoint, but more importantly, we're in the people business. Internally, we strive to create a culture where people feel connected to the company. Most importantly, we want them to feel appreciated and that we have a collaborative environment with a team approach.
Q: How did you become involved in this industry?
A: I had a real passion and desire to own my own business, although I wasn't exactly sure in what area. I fell into an opportunity through real estate, which turned into a management opportunity. I then met two other individuals who soon became my business partners. That journey had a lot of highs but a lot more lows, such as financial struggles, trying to differentiate ourselves from our competitors, and dealing with the economy. That journey continues. While our company has had great success—we are the largest in North America—every day is a challenge. We need to constantly meet the growing and changing demands of our clients, which will always keep us on our toes.
Q. How did William Paterson University prepare you for your path?
A: The people I met and the relationships built on campus have been a large part of my advantage. I was in a fraternity, was a resident assistant, and spent two years on the track team throwing the javelin. All of these experiences with the people and the leadership skills I gained have been stepping stones for me. Several people who were in leadership roles were very influential. For example, Dominic Baccollo, who was the dean of students, really influenced me and many other students. He helped me prepare for the business I'm in today, which is largely about bringing people together, working together, and resolving issues and challenges.
Q: Why is it important to be involved with your alma mater, such as serving on the Cotsakos College of Business Advisory Board?
A: It really is a win-win situation all around. If you feel the school did something to help you, in your career or personally, as it did for me, that's a major reason to be involved. From my perspective in business, the future is about the students who are there now, the up and comers, the emerging leaders. The Cotsakos College of Business is molding the next entrants to the business world. Today's students are going to be tomorrow's business leaders. It's a great opportunity to meet them, expand my business and potentially recruit new hires.
Q: What constitutes good leadership?
A: I think you have to be a really good listener. Always be curious. Keep your emotions in check. Do what's best for the bigger picture. Observing others, consistency, listening, executing, delivering, and being opened-minded are key components as well.
Q: If you could give advice to students just entering the business world, what would it be?
A: I admire the young leaders who are coming out of college. They are coming into a world that is much different than it was 20 years ago. I would advise them to try to keep an open mind. Try and take chances and make a difference. Be visible—your next opportunity can be right in front of you.