Campus Group Cleans Up Jersey Shore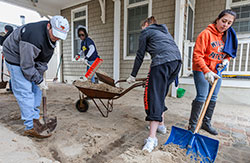 View flickr slideshow to see more photos

Campus Activities and Student Leadership sponsored a community service trip to the Jersey Shore on April 20 to assist with the cleanup efforts that are still impacting the shore communities from the damage caused by Hurricane Sandy. The group included 66 students from all classes, a range of club and organization leaders, some sorority and fraternity members, and four staff members.

They worked in the Chadwick Beach section of Lavallette. The area was selected with the help of the non-profit organization, Jersey Cares, who worked with the community to identify areas of need.

"It was truly a team effort of the people who lived in the area and the University students and staff who worked together for the cleanup," says Maribel Rodriguez, associate director, Office of Campus Activities and Student Leadership. "The residents were very appreciative, and the students felt that their contributions were making a difference and they were very happy to pay it forward. They definitely had an opportunity to see the devastation and were able to reflect on how Hurricane Sandy impacted the shore communities. From this experience, they inquired about future service opportunities and are excited to be involved."

This trip was one of three cleanup collaborations with Jersey Cares this year. Twenty-five students and staff cleaned up Union Beach on March 9, and ninety more worked together on April 6 at Island Beach State Park.