Karen Johnson, M.Ed. '04, Named Passaic County Teacher of the Year by State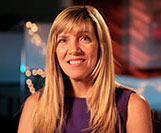 Karen Johnson
Karen Johnson, who earned a master's degree in educational leadership from William Paterson University in 2004, has been named the 2013-14 Passaic County Teacher of the Year.
Johnson was among the county teachers of the year chosen by a countywide panel of administrators, teachers, parents and county education representatives convened by the executive county superintendents of schools.
A teacher of German and English at both Macopin School and West Milford High School for more than 23 years, Johnson has taught every level of German the district offers as well as media literacy and journalism courses.
"Teaching energizes me," says Johnson, who also serves as a district-wide technology leader. This role enables her to step out and share new technology with other teachers across the district.
"Growing up, I loved school and am grateful to all the teachers who encouraged me. It changed who I am," she adds. "I hope to pass that on to my own students. I want them to discover that they can take on a challenge and succeed, if they simply apply themselves. Most importantly, I want them to believe in themselves."
As Passaic County Teacher of the Year the 2013-14 school year, Johnson is now in the running for the statewide competition. In October, she will find out whether she is one of the top five.