Alum Marks 25 Years as Volunteer with Pasadena Tournament of Roses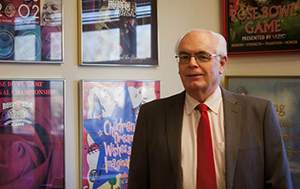 Walter Miller '70
On New Year's morning, while millions of viewers around the world watched the colorful Tournament of Roses Parade on television, Walter Miller '70 enjoyed it from the best seat in the house – the Parade's VIP Grandstand.
"It's one of those events you watch on TV and think, 'Oh, it's nice,'" says Miller. But after moving to Pasadena, CA and seeing the parade in person, Miller was awestruck by the pageantry and excitement. "My reaction was, wow! It was a show. Once I saw it, I wanted to become involved," he says.
Miller became a member of the Pasadena Tournament of Roses Association in 1987. In 2012, he was honored for 25 years of service and dedication to the group that began hosting parades and games more than 100 years ago. "The path of a volunteer is very clearly defined," he explains. The first six years you're on three basic committees to get a sense of what the parade is all about. There are about 30 committees, and you rotate every two years."
This past year, as a member of the tournament auxiliary committee, Miller attended the kickoff luncheon, watched the various bands at the band fest, and viewed the parade from the Grandstand. "It's the best seat to see the parade because it's the television shot you see across the country," he says.
In his day-to-day job, Miller is associate vice president for student life at the University of New Mexico and now lives in Albuquerque. At various times throughout the year, he travels to Pasadena to work for the non-profit organization. "With technology changing, it became much easier. At one time I would be flying back for meetings, and now can handle a lot of it via teleconference," he says.
Miller is one of more than 900 volunteers, in addition to full-time staff, who work year-round to organize the Rose Bowl Parade and Rose Bowl Game. For two years, Miller served on the radio and TV committee, acting as liaison on assignment with the CBS network. "When they needed to set up an interview with the grand marshal or get to some sites, we were the interface," he explains.
Last year, Miller was on the sports media committee and served as the host for John Cooper, former football player and coach, and one of the Rose Bowl's hall of fame inductees. Miller was with Cooper from the moment he arrived until his departure at Burbank Airport, guiding him through a schedule of activities. "It was a great opportunity to hear stories about Cooper's coaching experiences and in particular, about the Ohio-Michigan games, since I once lived in Michigan," says Miller.
"You meet a lot of very nice people, and you're working out of your normal career. That's what makes volunteering for the Rose Bowl Tournament a fun experience," he adds.
As a student at William Paterson, Miller was president of the Student Government Association and one of two graduates to receive the Alumni Association's Senior of the Year Award in 1970. It's also where he met his wife, Dawn Haney '70, a human resources executive.
"I had a great experience at William Paterson," he says. "It helped me focus on what I wanted to do and inspired me to pursue a career in higher education. I work with a lot of student programs. That's a thread throughout my work." Miller went on to earn his MA degree from Montclair State and an EdD from Pepperdine University in California.
He looks forward continuing his volunteer activities with the Tournament of Roses. "This year will be the anniversary of the 100th Rose Bowl Game and 125th Rose Parade, so there is a lot of history there."