Greater Paterson Chamber of Commerce Honors William Paterson University with Faith in Paterson Award at 104th Annual Gala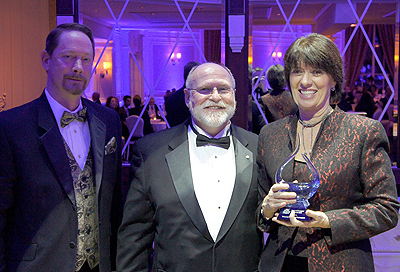 From left: George Waitts, chairman of Greater Paterson Chamber of Commerce (GPCC) Board of Directors, Jamie Dykes, president of GPCC, and University President Kathleen Waldron
William Paterson University has received the 2013 Faith in Paterson Award presented by the Greater Paterson Chamber of Commerce. The award was given in recognition of the University's long-standing commitment to and support for the greater Paterson community, especially the business community.
President Kathleen Waldron accepted the award on behalf of the University at the Greater Paterson Chamber of Commerce's 104th Annual Gala on Saturday, January 26, 2013 at the Westmount Country Club in Woodland Park.
"The history of William Paterson University and the city of Paterson have been intertwined since our founding in 1855 as Paterson Normal School, and this award is a great honor," says Waldron. "We are dedicated to continuing our active and multifaceted involvement in the city, including our support for the Small Business Development Center in Paterson and other economic initiatives, our strong, collaborative relationship with the Paterson Public Schools, the numerous academic, volunteer, and community engagement endeavors of our faculty, staff, and students, and our role in the development of the new Great Falls National Historical Park."
"We are pleased to be honoring such a committed institution such as William Paterson University. says Jamie Dykes, president, Greater Paterson Chamber of Commerce. "The Chamber has enjoyed a strong relationship with William Paterson. Moreover, the University has continuously supported programs to aid in the growth of our economic and educational bases in Paterson and surrounding Paterson. They are an invaluable asset and partner."
Paterson Mayor Jeffery Jones commended the Chamber for honoring the University. "William Paterson University's relationship with the City of Paterson dates back to the middle nineteenth century, when it was established as the Paterson Normal School. Since then, and well after it became a University, William Paterson has supported our City and our schools through student activities and University programs. Honoring William Paterson University is the right thing to do and I applaud the Chamber for doing so."
The Greater Paterson Chamber of Commerce's 104th Annual Gala featured live music with dancing, a brief program, and the Westmount Country Club's world-famous cocktail hour. For more information visit the GPCC website, www.greaterpatersoncc.org or call 973-881-7300.
# # #