Retired William Paterson Faculty and Staff Return to Campus to Reconnect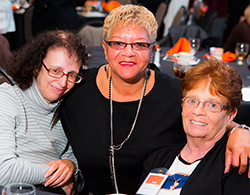 Theresa Lobosco, Audrey Pelham, and Ann McKiernan were among the attendees
More than 70 retired William Paterson faculty and staff attended a luncheon reception on November 8, 2013 hosted by the President's Office to celebrate their many years of service and dedication.
Click here to view slideshow of photos
"It was such a pleasure to welcome back retired employees, many of whom spent their entire careers at William Paterson," says President Kathleen Waldron. "Faculty and staff from a wide range of positions and departments enjoyed having the opportunity to reacquaint themselves with each other and the campus and catch up on each other's lives since leaving the University."
Les Agard Jones, former dean of the College of Education, was among the retirees who marveled at the changes he's witnessed since he came to campus in 1970. "It's impressive," he says. "There's the new science building, this building (University Commons), and all the residence halls…the campus has really grown in more ways than one."
"I can't get over it, everything is so new!" exclaims Oliver Newton, a retired associate professor of biology.
"I'm surprised how wonderful and beautiful the college has grown," says Florence Sherow, 88, one of the oldest retirees to attend the luncheon. Sherow worked as a secretary in facilities when Frank Zanfino was acting president.
Art Eason, former director of intercollegiate athletics, who worked at William Paterson for 32 years, frequently returns to campus to attend athletic events. Over the years he's enjoyed watching all the improvements in athletics, such as the new baseball field and the resurfacing of the football field.
"I could get lost walking across the campus," comments Edith Wallace, professor of biology from 1968 to 1997 and department chair for six years, reacting to the many changes on campus.
"If when you grow up you get to do what you liked to do as a child, you've got the best job ever," adds Wallace. "One of the things I liked to do best was go to school and my years at William Paterson were like I kept going to school – never work."