Lynn McVey '81: Rising to the Top in Healthcare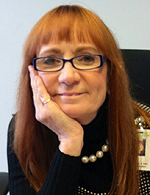 Lynn McVey '81
Lynn McVey '81 likes a challenge. Currently acting president and CEO of Meadowlands Hospital Medical Center (MHMC), she is a thirty-year veteran in the healthcare industry, using her expertise in management to rise to the top level in her profession.
Talkative, decisive, and inspirational, she leads by example. "I like to work hard," she says. "Everyone works hard here to take care of our patients."
A recent challenge came in the form of Superstorm Sandy which had her active in all aspects of the hospital, particularly supervising patient care in the 230-bed facility. McVey even spent time inspecting the boiler room as water from the nearby Hackensack River flooded the area and made sure that all the patient and employee cars in the parking lot of the low-lying building had been moved to an adjacent parking garage.
"For six hours during the storm, we were the only hospital open in Hudson County," McVey says. "All patients needing care were diverted here. We had four generators going and were self-sustainable."
For a while, the hospital was on lockdown, but she had prepped for disaster after Hurricane Irene in 2011 and used what she learned during that storm to lead the hospital during Sandy.
"I brought my inflatable bed to my office and slept on it for five nights," she reports. "Everyone on staff pitched in by working extra shifts and helping out wherever they could."
Such dedication comes easy to McVey, who has spent her entire career helping others.
She began her career as an x-ray technologist, but soon realized that she wanted to go into healthcare management to effect real change. She enrolled at William Paterson, worked her way through, and graduated with a bachelor of science degree in allied health in 1981.
Continuing her education, McVey recently earned a master's degree in healthcare management from St. Elizabeth's College; her thesis, on evidence-based management, her area of expertise, was just published as a book: The Book on Evidence Based Management in Healthcare…. The Game Changer.
Under her leadership, MHMC was profitable in 2012, a practice she pledges to continue. "I love this hospital, and keeping people healthy," she says. "Our goal is very progressive. We want to deliver healthcare. Most hospitals deliver disease-care."