Alumnus Christos Cotsakos '73 Kicks Off Cotsakos College of Business Leadership Forum
Dr. Christos M. Cotsakos '73, founding chairman, CEO, and president of EndPlay, Inc., and founding chairman and CEO of Pennington Ventures, spoke to University students and faculty earlier this month in the first program of the 2013-14 Cotsakos College of Business Leadership Forum held on campus. The forum provides an opportunity for William Paterson students to hear first-hand from industry leaders about the challenges and opportunities in building successful businesses, as well as insights into current strategies and important macro trends.
Cotsakos, who is the namesake of the Cotsakos College of Business, spoke to a full house on November 4. Cotsakos traced his journey from military service in Vietnam, to William Paterson student and alumnus to executive positions at Federal Express, Nielsen, and E*TRADE.
He also spoke about his current role as founding chairman and CEO of Pennington Ventures, a private digital media and strategic management company. Cotsakos advised the students to "think for yourself and globally," and challenged them to "work hard with integrity, honor, and perseverance."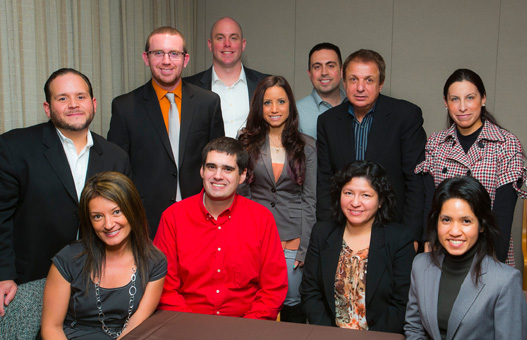 Photo: Christos Cotsakos '73 (second row, second from right) with students (front, l. to r.) Raquel Ramos, James Grossman, Sandy Calero, Penny Kamkourkong, (second row, l. to r.) James Vera, Daniel Farley, Stacey Vaughan, Magaly Aquilar, (rear, l. to r.) Brian Kordell, Robert Tavoularis