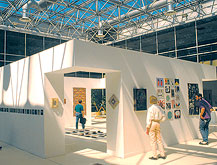 All freshman, transfer, and second-degree students selecting Fine Art as their major must submit a portfolio for review by the art department as part of the admissions criteria. Information regarding the review will be sent to you upon receipt of your application, or you may contact the Art department at 973.720.3732.


Portfolio Review Days
Portfolio reviews are conducted on scheduled Portfolio Review Days or by appointment throughout the semester. To check the latest Portfolio Review Days, please check the schedule at Art News And Events.
Appointments are required, so please call 973.720.3732 to schedule a time and place for your review.

For more on art department offerings, please follow this link.