After Acceptance
Congratulations on your acceptance to William Paterson University! You are one step closer to becoming a member of our campus community. Please familiarize yourself with the following procedures and options to complete your enrollment for the upcoming semester.

Please note:
The information below is provided in your admissions acceptance package. Click here for a copy of the

Freshman Student Checklist

.

You will need your WPUNJ Student ID number to use the online forms as your username - click here to look up your ID. Your PIN/Password is your date of birth in MMDDYY format (for example, March 17, 1999 would be 031799).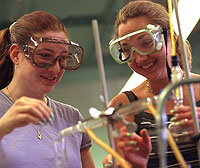 Confirm your Admission

You must submit the $125 admissions confirmation fee as requested in your acceptance letter to reserve your place in the upcoming freshman class. This fee will initiate the assignment of a placement test and, subsequently, your orientation/registration reservation. Click here to pay your confirmation fee online.

Take Your Placement Tests

You will be notified if you need to take the University Basic Skills Placement Test or the Foreign Language Proficiency Test. Office of Testing can be reached at 973.720.3095 or basicskills@wpunj.edu.

Submit Your Health Form

You may download a WPUNJ Health Form. This form must be signed by your doctor and received by the Health and Wellness Center by July 30 for the fall semester and January 2 for the spring semester. Failure to do so could result in a hold on registration. Those students who plan to live in the residence halls are required by state law to have a meningitis vaccine before they are permitted to move into their assigned room. If you have any questions, please contact the Health and Wellness Center at 973.720.2360.

Consider Campus Housing

There is no minimum distance requirement for living on campus. Residence hall assignments are available on a first-come, first-served basis. To confirm your campus housing, a residence hall facilities contract and a non-refundable $150 deposit are required. This fee is in addition to the $125 admissions confirmation fee. Click here to complete your online housing contract. A hard copy may also be requested by directly contacting Residence Life at 973.720.2714 or Reslife2@wpunj.edu.


Housing in a standard "double" room will be guaranteed for students who submit their Housing Contract and deposit by May 1. Students who submit Housing Contract and deposit by July 1 are guaranteed housing, but may be subject to "triple" room assignments.

Mark Your Calendars for Freshman Orientation

All freshmen are required to participate in orientation. Invitations to this two-day event will be mailed on a rolling basis only to students who have
submitted their $125 admissions confirmation fee, and taken their Basic Skills Placement Tests.

For additional information, please go to the Orientation Website, or contact the orientation office at wpu-orientation@wpunj.edu.

You may also call the Orientation Hotline at 973.720.6206 to leave a message if needed. Keep in mind that during the summer months the University is closed on Fridays, so your best way to reach us would be through e-mail.

Apply for Financial Aid

Filing a Free Application for Federal Student Aid (FAFSA) is required for consideration of any grants, loans, or scholarships. The FAFSA is available at your guidance office, or you may apply online at www.fafsa.ed.gov. Submit your financial aid information to William Paterson University by using our code: 002625. Contact us at 973.720.2202 or finaid@wpunj.edu.

Sign Up for the Tuition Installment Plan

The TIP plan enables students or their families to pay interest-free monthly installments on their account toward their tuition, fees, and housing. Many students and families find monthly installments more manageable than one lump payment each semester.

For additional information about Tuition Installment Plan and payment options, please click here!

Transfer Your Advanced Placement (AP) Credits

It is the student's responsibility to request AP test results to be sent directly to the Office of Admissions. No credit will be applied without official documentation. Credit will be issued provided that your AP test score meets William Paterson University transfer standards. These credits can be used to fulfill curricular requirements. Click here for the University's AP course equivance.

Submit Your Final High School Transcript

Upon graduation, it is mandatory that the student request that a final transcript, including date of graduation, be sent to the Office of Admissions.

Questions?

If you have any further questions or concerns, please contact the Office of Admissions at 973.720.2763 or admissions@wpunj.edu.
William Paterson University
300 Pompton Road
Wayne, New Jersey 07470
973-720-2000