Professional Sales
Professional Sales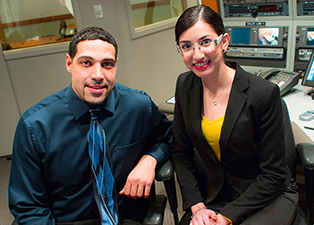 Contact Us
Cesar Perez-Alvarez, Ph.D.
Chair, Department of Professional Sales
perezc@wpunj.edu
973-720-3835
Program Information
Professional Sales (B.S.)

William Paterson is the first higher education institution in the world to offer a bachelor of science (B.S.) degree in professional sales. An outgrowth of the University's Russ Berrie Institute for Professional Sales, the degree is offered through the University's Cotsakos College of Business and prepares students for careers in sales and sales management, providing them with the academic knowledge and practical skills required for success in today's complex business environment.
Benefits of the program include:
a focus on experiential learning that allows students to apply and demonstrate their understanding of the concepts and theories in realistic hands-on sales and business settings.
extensive use of the Russ Berrie Professional Sales Laboratory, a state-of-the-art facility that helps students develop and sharpen sales skills in an interactive simulated office environment.
field experience through an optional internship.
"smart" classrooms fully equipped for videoconferencing and the latest learning technologies.
faculty who bring both top-notch academic credentials and real-world experience as professional salespeople to the classroom.
For further information, visit the links below or contact:
Department of Professional Sales home page or contact
Cesar Perez-Alvarez, Ph.D.
Chair, Department of Professional Sales
perezc@wpunj.edu
973.720.3835