Environmental Science
Environmental Science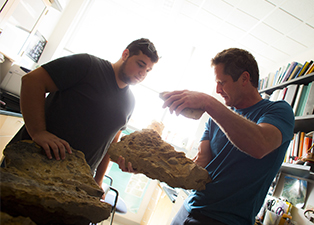 Contact Us
Jennifer Callanan, Ph.D.
Chair, Department of Environmental Science
callananj@wpunj.edu
973-720-3979
Program Information
Earth Science (B.A.)
Environmental Science (B.S.)
Environmental Sustainability (B.S.)
The environmental science department provides the skills participants need for life-long learning about the natural environment. The programs seek to help solve specific environmental community problems and to aid communities in assessing resources and planning for the future. Community service as exemplified in the program's senior practicum and field experience courses remain the major's capstone.

Program highlights include:

A dedicated teaching faculty (all have Ph.D.s ) and small-class size that affords opportunities for student/faculty contact. Full-time faculty members are active researchers. Classes are taught by faculty, not by teaching or graduate assistants.
extensive research opportunities that include geology, hydrology, soil science, freshwater ecosystems, conservation biology, pollutant transport, and more.
modern computer and analytical technology available for undergraduates to use.
a campus rich in natural resources that includes a fully equipped field station, a stream, waterfall, ponds, and forests.
Graduates have entered careers in:
environmental consulting
environmental education from the elementary and secondary levels through collegiate instruction
government projects and programs at the local, state, and federal levels
private industry
To learn more, visit the Department of Environmental Science home page or contact us directly.