English
English (literature and writing concentrations)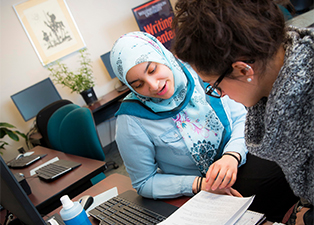 Contact Us
Phoebe Jackson
Interim Chair, Department of English
Jacksonp@wpunj.edu
973-720-3376
Program Information
English (B.A.)
Literature
Writing
The academic program in English offers a major (B.A.) with a concentration in literature or in writing. In addition, a minor in English and a variety of liberal studies or free elective courses for students in other programs are offered. Students may choose:
English, American, and comparative literature
linguistics
criticism and writing
and contemporary themes in literature and film.
Reasons to choose English at William Paterson:
more options. Unlike most English departments, majors decide whether they want to specialize in—literature or writing. Students may take a more traditional English major—studying the great writers of the past and present—or learn how to become a successful writer. In both instances, students can take a wide range of literature and writing electives.
personal attention. Class sizes are small—writing classes and many literature classes have fewer than 20 students. Faculty—who are full-time and experienced—meet regularly with students to help them succeed. Graduate assistants do not teach courses.
exceptional faculty. Professors have written poetry, plays, screenplays, novels, memoirs, biographies, translations, scholarly editions, critical books, articles, and widely used anthologies. Among them are internationally known scholars, Fulbright scholars, prize-winning poets, and grant winners.
Career opportunites look bright for graduates:
English majors find a wide variety of careers in communication, public relations, publishing, technical and business writing, and in the corporate world. Their writing and communication skills make University graduates very competitive.
many English majors receive teacher certification for early childhood, elementary, or secondary education.
alumni go on to graduate school for English, communication, journalism, law, or other professional programs.
To learn more, visit the Department of English homepage or contact us directly.