Communication
Communication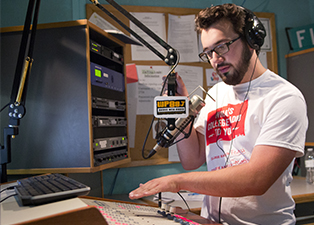 Contact Us
Diana Peck, Ed.D.
Chair, Department of Communication
peckd@wpunj.edu
973-720-2167
Program Information
Communication (B.A.)
Interpersonal
Journalism/Public Relations
Media Studies
Theater and Comedy
Through its B.A. in communication, the department offers an integrated introduction to communication arts and technologies, including film, video, audio, and theater through both theory and production-oriented classes. Curricula address the creation, transmission, and evaluation of messages at all levels for commercial or noncommercial purposes, and prepare individuals to work in varied media.

Students in the communication program benefit from:
the University's suburban campus, located 20 miles from the world's media hub-New York City-affording internships and job placement in every facet of the field. Top area professionals serve as faculty members, ensuring the best possible classroom experience.
Hobart Hall, our state-of-the-art facility that features broadcast-quality television studios, teleconferencing rooms, mobile units, complete satellite uplink/downlink transmission systems, film production and screening rooms, video post-production and editing rooms, computer graphics and integrated arts area for multimedia projects and theatrical productions. In addition, the campus has a cable television system and a radio station operated by our current students.
a variety of concentrations within the major, including television, radio, journalism, film, interpersonal communication, public relations, and theater. Students may take classes from each to customize their degree.
participation in two internships. The first is an internal experience working with university publications, theater facilities, television, or radio stations. An external internship, in conjunction with a concentration, places students in television, radio, print, public relations firms, and theaters in the greater New York area.
Professional opportunities include:
print and broadcast journalism
radio and television production, including announcing, station management, corporate, and cable operations
film production and editing
theater performance and production
media theory and criticism.
In addition, communication and theater studies prepare students for positions in business, government, education, public relations, personnel work, management, and consulting.

To learn more, visit the Department of Communication home page or contact:

Diana Peck, Ed.D.
Department Chair, Department of Communication
peckd@wpunj.edu
973.720.2167