Contact Us
Professor Julie Rosenthal
Program Director, Department of Elementary and Early Childhood Education
rosenthalj@wpunj.edu

973-720-3087
Initial Certification – Elementary Education – K-6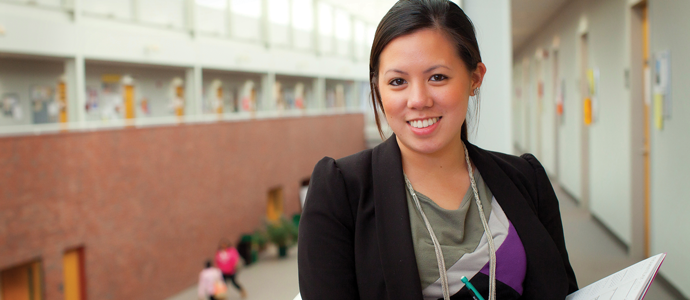 Degree Offered: Initial Certification
Concentration: Initial Certification Elementary Education K-6
Application Deadline:
August 1st: Fall semester
December 1st: Spring semester
May 1st: Summer semester

*International students are advised to apply by:
March 1st: Fall (September intake)
July 1st: Spring (January intake)
December 1st: (May intake)
Program Description:
This program offers a graduate curriculum leading to a New Jersey Certificate of Eligibility with Advanced Standing (CEAS) in Elementary Education K-6.
(Note: Post Baccalaureate Teacher Certification Programs may be taken as standalone programs OR can be taken as Phase I in the 2-phase MAT Program. See MAT Program Sheet for details.)
Following completion of the first 20 credits of coursework, candidates enroll in a 10-credit student teaching internship and seminar. The traditional internship requires a full semester of supervised teaching in a public school.
Additional field placements include a part time practicum and school-based observations.
Admission Requirements:
In addition to the University's admission requirements:
A baccalaureate degree with either a major in a liberal arts or science or with a minimum of 60 credits of liberal arts.

Cumulative undergraduate GPA of at least 3.00 on a 4.00 scale.

Two letters of recommendation from educational, professional or business sources.


An essay describing applicants reasons for wanting to enter the teaching profession.

An interview with the program director.

Praxis Core academic skills for educators

Passing score on the appropriate Praxis II exam(s)
Praxis II in Elementary Education Multiple subjects
Requirements to be completed prior to Student Teaching:
Take a course in Child or Developmental Psychology (might be satisfied by Undergraduate coursework.)

Fulfill health/hygiene requirement.

Pass speech and hearing assessments.
*Candidates must consult with their faculty advisor before selecting courses in the event that changes have been made in the program or its course offerings.
** Candidates must maintain a cumulative GPA of 3.0 on a 4.0 scale in order to remain matriculated in this program
Program Requirements:
Certificate: Initial Certification Elementary Education K-6
Phase I: Required Courses for Certification
30 Credits
Pre-Practicum Coursework
CIEE 5110 Educational and Psychological Theories and Applications (Includes 20 hours unsupervised field observations)
3
CIEE 5120 Reading, Language Arts and Literature in Inclusive Classrooms (Meets in an area elementary school; contains 20 hours supervised field experience. You must be fingerprinted to participate in field experience.)
3
CIEE 5160 Integrating Technology Into the Curriculum
2
CIEE 5220 Inclusion, English Language Learners, and Differentiated Instruction
2
Practicum and Related Coursework
CIEE 5130 Mathematics Methods and Assessments for Teaching for K-6

2

CIEE 5140 Teaching Strategies in Social Studies and Global Issues *MUST be taken concurrently with CIEE 5170*
3
CIEE 5170 Practicum & Seminar (Contains one day each week field placement) MUST be taken concurrently with CIEE 5140* (Apply in advance for Practicum placement. You must have substitute teaching licenseto participate in field experience)
1
CIEE 5180 Art and Creativity Methods and Assessments K-6
2
CIEE 5190 Science Methods and Assessments for Teaching K-6
2
Student Teaching Internship
(Pre-reqs: CIEE 5170, CIEE 5140, CIEE 5130, CIEE 5150, CIEE 5180; take and pass the Praxis II in Elementary Content Knowledge)
EDUC 5140 Student Teaching Internship, Seminar and Portfolio Assessment* (Full time Student Teaching plus Seminar. Apply in advance for Student Teaching internship.)
10
Note: Field experiences (CIEE 5170 and EDUC 5140) MUST be applied for one year in advance. Applications which include biographical data forms, are available to download from the Office of Field Experiences web page at www.wpunj.edu/coe/departments/field/applications.dot