Contact Us
Dr. Pamela Brillante
Program Director, Department of Elementary and Early Childhood Education
brillantep@wpunj.edu

973-720-2279
Initial Certification – Elementary Education K-6 with TSD Endorsement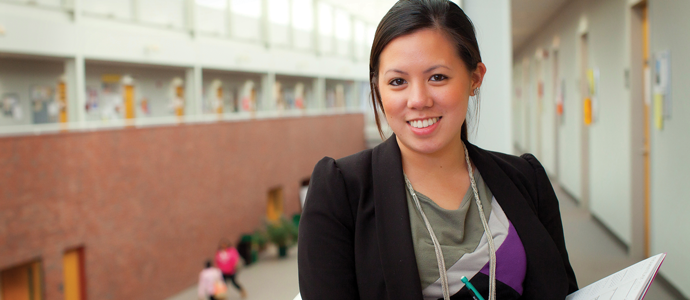 Degree Offered: Initial Certification
Concentration: Initial Certification Elementary Education K-6 with Teacher of Students with Disabilities Endorsement
Application Deadline:
August 1st: Fall semester
December 1st: Spring semester
May 1st: Summer semester

*International students are advised to apply by:
March 1st: Fall (September intake)
July 1st: Spring (January intake)
December 1st: Summer (May intake)
Program Description:
This initial dual licensure program is intended for college graduates who are not currently certified to teach in any area and who wish to earn certification in Elementary Education,
K-6 with an endorsement as Teacher of Students with Disabilities. This 46-credit program includes 34 credits of coursework, two practicums and a 10-credit full-time semester of student teaching. Upon completion of the program, teacher candidates will possess the knowledge, skills and dispositions to teach general education students K-6, and students with special needs.
Admission Requirements:
A cumulative undergraduate grade point average of at least 3.00 on a 4.00 scale.

Two letters of recommendation from professional sources.

Completion of co-requisite courses (may be taken at undergraduate or graduate level): Developmental Psychology, Educational Psychology and Multicultural Course (see advisor for list of acceptable courses).*

An essay that describes the personal reasons for wanting to complete the program.

Praxis Core academic skills for educators

Passing Score on the appropriate Praxis II exam(s)

*If pre-requisite courses were not completed as part of B.A. degree, then they must be taken before Teaching Internship.
Program Requirements:
46 credits of graduate study.

At least 3.0 GPA throughout program.
Certificate: Initial Certification Elementary Education K-6
with TSD Endorsement
46 Credits
Core Course (Pre-requisite to specialization courses)
3 Credits
SPC 5550 Educational Foundations in a Diverse Society
3
Specialization Courses (in alphabetical order):
CIEE 5120: Reading, Language Arts & Literature in Inclusive and Non-Inclusive Classrooms
3
SPC 5600 Understanding School-Based Assessment of Diverse Learners
3
SPC 5620 Standards-Based Instructional Management
3
SPC 5640 Managing Challenging Behaviors in Diverse Settings
3
SPC 5660 Assistive Tech in the Inclusion Classroom
3
SPC 5800 Collaboration with School, Home and Community
3
SPC 5820 The Universally Designed Inclusive Classroom
3
SPC 5700 Language, Literacy and Learning in a Diverse Society
3
CIEE 5130 Math Methods & Assessments (K-5)
3
Field Experiences:
CIEE 5170 Practicum / Seminar
1
SPC 5750 Practicum / Seminar
1
EDUC 5140 Post-Bac Teaching Internship/Seminar
10
Visit the Office of Field Experience (OFE) for information regarding field requirements:
http://www.wpunj.edu/coe/departments/field/index.dot