Contact Us
Professor Peter McGuinness
Program Coordinator, Department of Music
mcguinnessp1@wpunj.edu

973-720-3387
Music – Jazz Studies and Arranging (MM)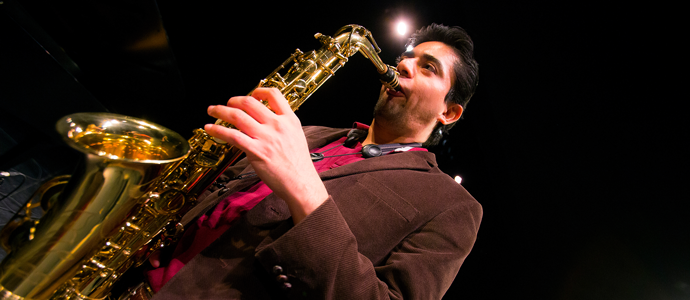 Degree Offered: Master of Music
Concentration: Jazz Studies and Arranging
Application Deadline:
February 1
Matriculaation:
Fall semster
Program Description:
The jazz studies concentration offers a high-level experience in small jazz ensemble and solo performance, arranging and composition, improvisation, and instrumental/vocal performance skills. In addition, William Paterson jazz students have access to high-level, primary source studies available only in the New York area, and to current pedagogical techniques in improvisation and arranging.
A deeper level of study arises from the following: added historical and theoretical background (in the Western European tradition, as well as in jazz); primary source research and graduate-level writing opportunities uniquely available in jazz; current technological innovations as they relate to jazz; and application of these issues to pedagogical techniques in higher education and/or public schools.
Admission Requirements:
In addition to the University's admission requirements:
Completed SlideRoom application.

Cumulative grade point average of 2.75 on a scale of 4.00.

Two letters of recommendation.
Jazz arranging track majors:
A portfolio must contain a minimum of three scores with recording (CD or tape).

One selection must feature a large ensemble.

If possible, a cross-representation of styles, tempos, and instrumentation should be included.

In addition to jazz pieces, works in other styles may be submitted. Please exclude extended improvisation sections.
Program Requirements:
36 credits of graduate study.

One-hour recital.

Satisfactory completion of a comprehensive examination,
which carries no course credit and is required of all students.

Final Project.
MM Jazz Studies: Arranging Concentration
36 credits
Arranging Concentration
Arranging Lessons
12
Ensembles (one per semester)
4
Research Techniques
3
Transcription and Analysis
3
Music for the Media
3
Jazz Pedagogy
3
Topics in Jazz History
2
Advanced Jazz Ear Training
2
Entrepreneurship for the Jazz Musician
2
Topics in Arranging
2
Arranging Recital
0
Composition and Arranging Track
36 credits
First Year – Fall semester
9 credits
MUSP 5900 Arranging Lessons
3
MUSP 5410 Chamber Jazz Ensemble
1
MUSI 5750 Transcription and Analysis
3
MUSI 5740 Advanced Jazz Ear Training
2
First Year – Spring semester
9 credits
MUSP 5910 Arranging Lessons
3
MUSP 5420 Chamber Jazz Ensemble
1
MUSI 5300 Research Techniques
3
MUSI 6780 Topics in Jazz History
2
Second Year – Fall semester
9 credits
MUSP 6900 Arranging Lessons
3
MUSP 6410 Chamber Jazz Ensemble
1
MUSI 6680 Composing for the Media
3
MUSI 6770 Topics in Jazz Arranging
2
Second Year – Spring semester
9 credits
MUSP 6910 Arranging Lessons
3
MUSP 6420 Chamber Jazz Ensemble
1
MUSI 6700 Pedagogy of Jazz
3
MUSI 6710 Entrepreneurship for the Jazz Musician
2
MUSP 6010 Arranging Recital
0
College of Arts and Communication
Music Courses
MUS 5610 Research Techniques
3
MUS 5580 Music Technology
3
MUS 5900 Graduate Seminar
3