Contact Us
Professor David Demsey
Program Coordinator, Department of Music
demseyd@wpunj.edu

973-720-2268
Music – Jazz Studies and Performance (MM)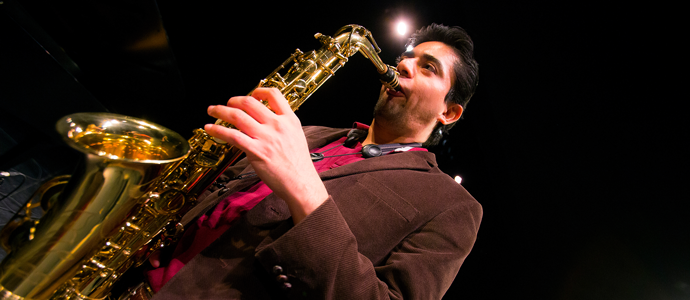 Degree Offered: Master of Music
Concentration: Jazz Studies & Performance
Application Deadline:
February 1
Matriculation:
Fall semester
Program Description:
The Jazz Studies concentration offers a high-level experience in small jazz ensemble and solo performance, arranging and composition, improvisation, and instrumental/vocal performance skills. In addition, William Paterson jazz students have access to high-level, primary source studies available only in the New York area, and to current pedagogical techniques in the areas of improvisation and arranging.
A deeper level of study arises from the following: added historical and theoretical background (in the Western European tradition, as well as in jazz); primary source research and graduate-level writing opportunities uniquely available in jazz; current technological innovations as they relate to jazz; and application of these issues to pedagogical techniques in higher education and/or public schools.
Admission Requirements:
In addition to the University's admission requirements:
Completed SlideRoom application.
Cumulative grade point average of 2.75 on a scale of 4.00.
Two letters of recommendation.
Jazz performance track majors:
An audition CD or tape following these requirements:

The taped performance should demonstrate ability to play within a group and strengths as a soloist. Perform a minimum of three tunes:

One up-tempo tune such as "Cherokee," "Ornithology," "It Could Happen To You," "Just Friends," or a similar selection.
One ballad such as "Body and Soul," "In a Sentimental Mood," "I Can't Get Started," or a similar selection.
One medium-tempo tune such as "All the Things You Are," "Out of Nowhere," "Have You Met Miss Jones?" or a similar selection.

At least one chorus within the presentation of each tune should be performed unaccompanied.
Special Audition Notes:
Piano, guitar, and mallet instruments: Performance should demonstrate ability to accompany, as well as to solo.
Drum set: Performance should demonstrate ability to use brushes as well as sticks, and to play through the head of the up-tune unaccompanied, outlining rhythmic structure of the melody.
Bass: Performance should demonstrate ability to construct a walking bass line and should showcase strengths as an improviser. Acoustic bassists should demonstrate use of the bow.
Vocalists: If currently studying voice, include sample of vocalization at the beginning of tape. Performance should demonstrate the ability to scat, as well as an understanding of the lyric.
Program Requirements:
36 credits of graduate study.
One-hour recital.
Satisfactory completion of a comprehensive examination,
which carries no course credit and is required of all students.
Final project.
Master of Music (Jazz Studies & Performance concentration)
36 Credits
Arranging Concentration
Applied Lessons
12
Ensembles (one per semester)
4
Research Techniques
3
Transcription and Analysis
3
Graduate Seminar
3
Jazz Pedagogy
3
Topics in Jazz History
2
Advanced Jazz Ear Training
2
Entrepreneurship in the Music and Ent. Industry
2
Performance Practice
2
Masters Thesis or Tribute Recital
0
Performance Recital
0
Composition and Arranging Performance Track
36 credits
First Year – Fall semester
9 credits
MUSP 5940 Applied Lessons
3
MUSP 5410 Chamber Jazz Ensemble
1
MUSI 5750 Transcription and Analysis
3
MUSI 5740 Advanced Jazz Ear Training
2
First Year – Spring semester
9 credits
MUSP 5950 Applied Lessons
3
MUSP 5420 Chamber Jazz Ensemble
1
MUSI 5300 Research Techniques
3
MUSI 6780 Topics in Jazz History
2
Second Year – Fall semester
9 credits
MUSP 6950 Applied Lessons
3
MUSP 6410 Chamber Jazz Ensemble
1
MUSI 6300 Graduate Seminar
3
MUSI 6760 Performance Practice
2
Second Year – Spring semester
9 credits
MUSP 6950 Applied Lessons
3
MUSP 6420 Chamber Jazz Ensemble
1
MUSI 6700 Pedagogy of Jazz
3
MUSI 6400 Entrepreneurship in the Mus and Ent. Industry
2
MUSI 6910 Master's Thesis or MUSI 6020 Tribute Recital
0