Contact Us
Professor Carrie Hong
Program Coordinator, Department of Educational Leadership and Professional Studies
honge1@wpunj.edu

973-720-2130
Literacy – Reading (MEd) (available on campus and all online)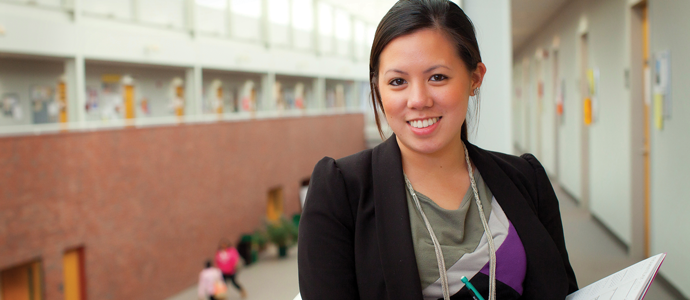 Degree Offered: Master of Education in Literacy
Concentration: Reading
Application Deadline:
August 1st: Fall semester
December 1st: Spring semester
May 1st: Summer semester
*Applications received after the deadline will be reviewed on a space availability basis

*International students are advised to apply by:
April 1st: Fall (September intake)
November 1st: Spring (January intake)
December 1st: Summer (May intake)
Program Description:
The Master of Education (M.Ed.) in Literacy program at William Paterson University, the first of its kind to be established in New Jersey, has been training reading specialists at all levels of education for over fifty years. There are two options in the program. One is for candidates to take a combination of on-campus and online courses. The other option is for candidates to complete course work online, including 20 hours of reading practicum requirements at their respective schools.*
The program is designed to prepare graduate students who are certified teachers to work professionally in the highly specialized field of teaching and writing to P-12 students. Graduates are also qualified to work with college-level students and adults who are experiencing literacy problems. In addition, six credits in the core curriculum count toward meeting requirements for the 12-credit New Jersey Supervisory Certificate.
*A total of 20 clinic hours must be fulfilled before or after school hours with one or two students.
*Candidates, who want to complete the course work exclusively online, must contact the program director before being fully matriculated.
Admission Requirements:
In addition to the University's admission requirements:
Cumulative grade point average of no less than 2.75 on 4.00 scale.*

Minimum verbal score of 150 on the Graduate Record Examination (GRE), or minimum score of 388 on the Miller Analogies Test (MAT).*

A 250-500 word essay by the applicant on his or her philosophy of education and reasons for applying to this graduate program.

A copy of a teaching certificate and/or a resume of any teaching or educational work the applicant has performed.

Two professional letters of reference, at least one from a professor or other person who can attest to the applicant's academic abilities.

Copy of NJ Standard or CEAS teaching certificate.
*Upon the program director's approval, applicants who do not meet the grade point average or standardized test requirements may supplement the application with additional materials in support of their academic potential for successful completion of the graduate degree.
Program Requirements:
Completion of a minimum of 33 credits of graduate study.

Satisfactory completion of a comprehensive examination, which carries no course credit.
Requirements for Reading Specialist P-12 Certification
Completion of this MEd in literacy program

Two years of contractual, supervised classroom teaching experience.
New Jersey Supervisory Endorsement
The State of New Jersey has approved a supervisory certification for recent graduates of William Paterson's MEd in literacy program, provided that they complete two additional courses in the University's educational leadership program. Students who graduated after August 1999 are eligible to apply to take the following two courses and, upon satisfactory completion of the requirements, be certified as a supervisor:
EDLP 6040 Curriculum Design: Theory and Practice

EDLP 6090 Supervision and Evaluation: People, Programs, and Performance
MEd in Literacy (Reading)
33 credits
Required Courses
27 credits
ELRL 6010 Theoretical Foundations of Literacy
3
ELRL 6170 Literacy for Children in the Twenty-First Century
3
ELRL 6200 Diagnosis of Reading Problems: Practicum
3
ELRL 6210 Remediation of Reading Problems: Practicum
3
ELRL 6230 Practicum in Teaching Reading
3
ELRL 6240 Administration and Supervision of Reading Programs and Personnel
3
ELRL 6250 Adolescent and Adult Literacy in the Twenty-First Century
3
ELRL 6270 Research in Reading
3
ELRL 6330 Socio-Psycholinguistics and Reading
3
Literature Courses
3-6 credits
Select AT LEAST one of the following:
ELRL 6040 Recent Trends in Children's Literature
3
ELRL 6050 Advanced Inquiry into Literature for Children and Youth
3
ELRL 6260 Literature for Adolescents
3
Approved Elective Courses
0-3 credits
Choose one of the approved electives below OR another literature course above (i.e., ELRL 6040, ELRL 6050, ELRL 6260)
ELRL 6030 Literacy Instruction, English Language Learners
3
ELEC 6180 Language Development and Emergent Literacy
3
ELEE 6040 Writing in the Elementary School
3
ELRL 6220 Educating the Adult: Basic Reading
3
ELRL 6340 Teaching Critical Reading in the Content Areas
3
SOC 6300 Ethnic and Racial Experiences
3
ELRL 6310 Written Expression with Technology
3
SPED 5550 Educational Foundations in a Diverse Society
3
Other courses may be selected in consultation with the advisor.