Contact Us
Professor Jim Tsiamtsiouris
Program Director, Department of Comm Disorder
TSIAMTSIOURISJ@wpunj.edu

973-720-3355
Communication Disorders (MS)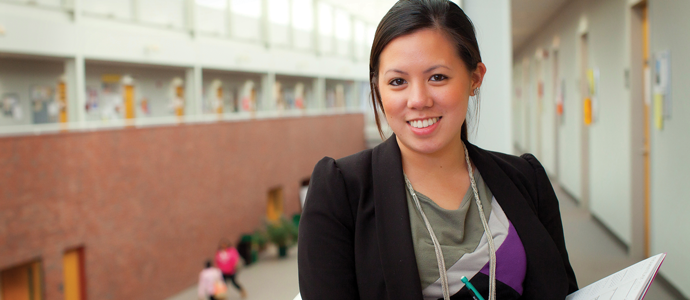 Degree Offered: Master of Science in Communication Disorders and Sciences
Application Deadline:
February 1
Non-degree status not available
Program Description:
The MS in communication disorders is a 54-credit degree program that is accredited by the Council on Academic Accreditation of the American Speech-Language-Hearing Association (ASHA). Students are prepared to pursue ASHA certification upon graduation. The program also meets the academic and clinical training requirements for New Jersey state licensure and qualifies students for the speech-language specialist certification from the New Jersey Department of Education. The master's program provides academic and clinical training which develops the skills necessary to assess and treat communicatively impaired individuals spanning all age ranges. The on-campus clinic provides intensive training with young children and adults while an extensive list of off-campus sites provides experiences with a wider variety of populations. These include adults and children with developmental disorders, acquired neurogenic disorders, congenital and acquired hearing loss, voice disorders, fluency problems, and limited English proficiency.
Students in the communication disorders program must complete a minimum of 375 hours of clinical practicum in addition to 25 hours of supervised observation. A comprehensive examination is required of all students prior to graduation. Graduates of the program have highly successful careers in a variety of settings including private practice, rehabilitation centers, public and private schools, early intervention centers, and acute care hospitals.
Admission Requirements:
In addition to the University's admission requirements:
Cumulative grade point average of no less than 3.00 on 4.00 scale.
Minimum score at or above the 50th percentile on the Graduate Record Exam.
Three letters of recommendation that attest to applicant's academic qualifications.
Personal Statement: description can be found on the CSDCAS portal
Program Requirements:
54 credits of graduate study.
Students without any undergraduate preparation in communication disorders will be required to complete all of the following prerequisite courses. Students with an undergraduate degree in communication disorders may need to complete some of the following prerequisite courses if they were not part of their undergraduate preparation. The decision will be at the discretion of the graduate program director and chairperson.
**PLEASE NOTE: Application to the master's program in Communication Disorders and Sciences at William Paterson University should be made through the Communication Disorders and Sciences Centralized Application Service (CSDCAS) https://portal.csdcas.org/. Be advised, all application materials must be submitted through CSDCAS in order to complete your application. Applicants must have their application verified by the deadline date. Applications must be completed (e-submitted, payment received, and transcripts received) at least four weeks in advance of the deadline to ensure the application is verified on time. A supplementary application processing fee of $50.00 is required by WPUNJ. Applicants will receive an email with payment instructions.
The GRE school code for CSDCAS is 3643.
Prerequisite Courses:
CODS 2640 Phonetics
CODS 3610 Anatomy and Physiology of the Speech and Swallowing Mechanism
CODS 3660 Introduction to Language Disorders
CODS 3720 The Nature and Development of Language*
CODS 3730 The Science and Measurement of Hearing
CODS 4620 Auditory Rehabilitation
CODS 4650 Clinical Methods
CODS 4660 Observation Lab
Students must complete a minimum of 375 hours of clinical practicum in addition to 25 hours of supervised observation. A minimum of 325 hours must be completed at the graduate level. Practicum hours must conform to the client/disorder distribution required by the program. Of the 375 hours, a minimum of 50 clinical hours must be completed in at least two externship sites.
Students desiring New Jersey certification to teach in public schools must ensure that the 375 practicum hours required for the master's degree include 100 hours of work with children.
Satisfactory completion of a comprehensive examination, which carries no course credit, is required of all students prior to graduation.
MS in Communication Disorders and Sciences
54 credits
Required Courses
38 credits
CODS 5060 Fluency Disorders
3
CODS 5500 Diagnostic Methods in Communication Disorders
3
CODS 6030 Voice Disorders
3
CODS 6050 Acquired Language Disorders in Adults
3
CODS 6110 Swallowing and Feeding Disorders
3
CODS 6210 Language Acquisition
3
CODS 6220 Neurologically Based Speech Disorders
3
CODS 6300 Language Disorders in Children: Birth to Five
3
CODS 6310 Language Disorders in School-Age Children
3
CODS 6420 Speech Science
3
CODS 6600 Auditory Processing Disorders
2
CODS 6800 Research Methods in Communication Disorders
2
CODS 6810 Research Seminar I
1
CODS 6900 Statistical Principles
2
CODS 6910 Research Seminar II
1
Required Clinical Practicum*
12 credits
CODS 5510 Diagnostic Pracicum I
1
CODS 6510 Diagnostic Practicum II
1
CODS 6520 Clinical Practicum in Speech-Language Pathology
4
CODS 5030 Articulation and Phonological Disorders
3
CODS 6530 Externship Practicum
6
Graduate Clinical Practicum will be taken as many times as needed in order to earn 375 clinical hours.
Electives
Students must complete four elective courses by selecting from the following:
CODS 5990 Selected Topics
1-3
CODS 6100 Cleft Palate and Velopharyngeal Disorders
1
CODS 6120 Communication Disorder Programs in Schools
1
CODS 6250 Teaching Speech and Language to the Hearing-Impaired
1
CODS 6700 Counseling in Communication Disorders
1
CODS 6740 Seminars in Early Intervention
1
CODS 6750 Acquired Cognitive Disorders
1
CODS 6760 Autism Spectrum Disorder
1