Contact Us
Professor Dewar MacLeod
Program Director, Department of History
macleodg@wpunj.edu

973-720-3047
History (MA)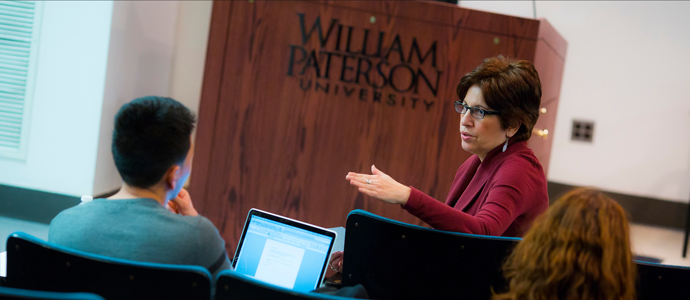 Degree Offered: Master of Arts in History
Application Deadline:
August 1st: Fall semester
December 1st: Spring semester
*Applications received after the deadline will be reviewed on a space availability basis

*International students are advised to apply by:
April 1st: Fall (September intake)
November 1st: Spring (January intake)
Program Description:
Through the master of arts in history, you will benefit from an innovative curriculum that focuses on global historical analysis and the integration of information technology into historical research and teaching. You will acquire the skills necessary to communicate historical insights in a diverse and technologically advanced society. The program offers you the flexibility to tailor a course of study to fit your needs. Upon concluding coursework, you will complete a master's thesis to demonstrate your skills in historical research and analysis, as well as your expertise in information technology.
All incoming students will take HIST 5000 Historical Thinking, the core course designed to introduce the fundamentals of historical interpretation, theories, and methodologies. Those pursuing the examination and thesis options are required to take one of the global history seminars. Students in the applied historical studies track will take courses in Digital History and Public History, as well as an internship.
Admission Requirements:
Cumulative grade point average of no less than 3.00 on 4.00 scale.

Minimum score of 152 on the verbal portion of the Graduate Record Exam (GRE).

Two letters of recommendation that attest to applicant's academic qualifications.

Academic writing sample, preferably based on historical research.
Program Requirements:
30 credits of graduate study.
MA History
30 Credits
THESIS OPTION
Requirements
12 credits
HIST 5000 Historical Thinking
3
HIST 6980 Advanced Writing Seminar
3
HIST 6990 Independent Thesis Research
3
Choose one Global History Seminar:
HIST 5360 Intellectual and Cultural History
3
HIST 5370 Twentieth Century
3
HIST 5380 Empires
3
HIST 5390 War and Revolution
3
Electives (Six courses at the 5000-7000 level)
18 credits
EXAMINATION OPTION
Requirements
12 credits
HIST 5000 Historical Thinking
3
Choose one Global History Seminar:
HIST 5360 Intellectual and Cultural History
3
HIST 5370 Twentieth Century
3
HIST 5380 Empires
3
HIST 5390 War and Revolution
3
Electives (Seven courses at the 5000-7000 level)
21 credits
Examination (not credit bearing): Departmental MA Examination to be evaluated by panel consisting of faculty who teach in the program.
APPLIED HISTORICAL STUDIES OPTION
Requirements
15 credits
HIST 5000 Historical Thinking
3
HIST 5010 Digital History
3
HIST 5200 Public History
3
HIST 6980 Advanced Writing Seminar
3
HIST 6990 Independent Thesis Research
3
Core Courses in MA History program
HIST 5000 Historical Thinking
3
HIST 6970 Reading Colloquium (required for Examination students)
3
HIST 6980 Advanced Writing Seminar (required for Thesis and Applied Historical Studies students)
3
HIST 6990 Independent Thesis Research
3
Global History Seminars
HIST 5360 Seminar on Intellectual and Cultural History
3
HIST 5370 Seminar on Twentieth Century
3
HIST 5380 Seminar on Empires
3
HIST 5390 Seminar on War and Revolution
3
U.S. History
HIST 5400 Abundance and Poverty in U.S. History
3
HIST 5450 The Reform Impulse in American History
3
HIST 5500 Violence in America
3
HIST 5600 The U.S. as Global Power
3
HIST 5650 The Cold War at Home and Abroad
3
HIST 5700 America Since World War II
3
HIST 5890 Seminar in New Jersey History
3
HIST 5900 New Jersey Urban History
3
HIST 5950 Seminar in Oral History
3
European History
HIST 6020 Issues in Western Civilization I
3
HIST 6110 Europe in Transition: Constantine to Charlemagne, 300-800
3
HIST 6130 Social History of Modern Europe
3
HIST 6160 Seminar in Early Modern Europe
3
HIST 6330 Modern Britain
3
HIST 6340 Modern France
3
HIST 6360 Crime and Punishment in Modern Europe
3
HIST 6370 German History: Issues and Debates
3
HIST 6380 Nazi Germany: Selected Topics
3
HIST 6450 The Soviet Union
3
Non-Western and Topical History
HIST 6490 Seminar in Women's History
3
HIST 6500 Seminar in Contemporary Middle East
3
HIST 6600 Seminar in East Asian History and Culture
3
HIST 6610 Seminar in Japanese History and Culture
3
HIST 6650 Seminar in Chinese History and Civilization
3
HIST 6700 Seminar in Latin American History
3
HIST 6810 History of Technology and Culture
3
HIST 6380 Nazi Germany: Selected Topics
3
HIST 6820 Seminar in the History of Science
3
HIST 6830 Military History
3
HIST 6840 Seminar in the History of Sexuality
3
HIST 5990 Selected Topics
3
HIST 7000 Independent Studies
3
Applied History
HIST 5010 Digital History
3
HIST 5200 Public History
3
HIST 6900 Internship in Public History
3