Contact Us
Professor Rajender Kaur
Program Director, Department of English
kaurr@wpunj.edu

973-720-3376
English (MA)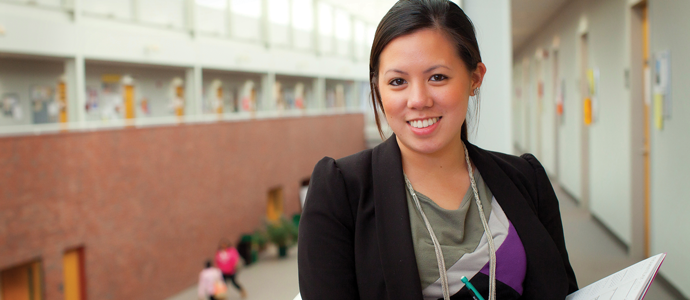 Degree Offered: Master of Arts in English
Application Deadline:
August 1st: Fall semester
December 1st: Spring semester
*Applications received after the deadline will be reviewed on a space availability basis

*International students are advised to apply by:
April 1st: Fall (September intake)
November 1st: Spring (January intake)
Program Description:
Students entering the MA program in English at William Paterson University undertake a rigorous course of study that will not only deepen their enjoyment and understanding of literary texts and movements, but also strengthen their abilities as interpreters, writers, scholars, and teachers of literature. The Department of English offers concentrations in both literature and writing. The literature concentration provides students with an advanced education in English and American literature. Literature students extend their knowledge of specific genres and major authors while exploring the social, historical, and political dimensions of literary production. Students receive a solid foundation in the theory and practice of literary criticism, the history of the English language, modern linguistics, techniques of composition, and critical and creative writing.
Admission Requirements:
In addition to the University's admission requirements:
Cumulative grade point average of no less than 3.00 on 4.00 scale.

Minimum score of 150 (Verbal) and 4.5 (Analytical) on the GRE or minimum score of 400 on the MAT.

Two letters of recommendation that attest to applicant's academic qualifications.

Essay of 500 to 750 words that addresses any one of the following questions:

What led you to apply to the graduate program in English at William Paterson University?

What are your personal reasons for pursuing an advanced degree in literature?

Why are you engaged by a particular issue, book or idea?
Program Requirements:
33 credits of graduate study.
Students in the literature program write a thesis, an essay of approximately 10,000 words, that demonstrates competence in scholarly techniques (critical, historical, or linguistic) in bibliographic materials involved in the topic, and in methods of documentation. It can take the form of presenting literature in the context of another area of study, or a study of the development within genres of at least two literary periods or national traditions of literature written in English, or a study that places the work in the context of another genre. Depending on the student's interest, the thesis can be a study, which takes into account alternate readings and demonstrates an understanding of contextual studies for a single text.
Students in the writing program write a thesis of approximately seventy-pages of fiction, drama or creative nonfiction. For poetry, students write a forty-page thesis.
| MA. English (Literature concentration) | 33 Credits |
| --- | --- |
| English 6990 – Research and Thesis Seminar | 3 |
| English 6560 – Contemporary Modes of Criticism | 3 |
| English 6140 – Applied English Linguistics: Grammar and Style or English 6180 – Modern English and Its Background | 3 |
| Two courses in Contextual Studies | 6 |
| Two courses in English literature from any period | 6 |
| Two courses in American literature from any period | 6 |
| Two electives from any category, including writing courses | 6 |
| Total | 33 Credits |
| M.A. English (Writing concentration) | 33 Credits |
| English 6990 – Research and Thesis Seminar | 3 |
| English 6560 – Contemporary Modes of Criticism | 3 |
| English 6160 – Creative Writing I | 3 |
| English 6260 – Creative Writing II | 3 |
| Four additional writing courses | 12 |
| Three courses in American literature, English literature, or Contextual Studies | 9 |
| Total | 33 Credits |