Contact Us
Professor Holly Seplocha
Program Coordinator, Department of Graduate Admissions
seplochah@wpunj.edu

973-720-2310
Initial Certification – Early Childhood (P-3 Alternate Route)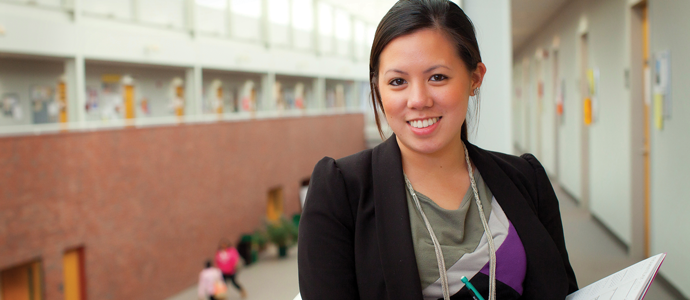 Degree Offered: Initial Certification
Concentration: Alternate Route Initial Certification Early Childhood: P-3
Specialized Alternate Route Program Preschool through Grade 3 (P-3)
Application Deadline:
August 1st: Fall semester
December 1st: Spring semester
May 1st: Summer semester
*Applications received after the deadline will be reviewed on a space availability basis

*International students are advised to apply by:
April 1st: Fall (September intake)
November 1st: Spring (January intake)
December 1st: Summer (May intake)
Program Description:
This is a specialized alternate route program. As such, the University does not recommend you for certification, and simply taking courses in the program will not grant you certification. Alternate-route certification involves taking and passing the required Praxis II test for P-3 certification (#0022 or #5022), obtaining a certificate of eligibility (CE) for P-3, your district/school enrolling you in the provisional teacher program and providing you with a mentor and supervisor, and completing the required course program. You are recommended for certification by the district/school upon successful completion of mentoring, district or school required evaluations, and the completion of the specialized alternate route course program.
General Information
All courses are offered in the evening.
Most students complete the courses in one year, taking one course in the summer and two courses plus practicum during both fall and spring semesters
Students must take and pass Praxis II, Early Childhood Content Knowledge; hold a CE to take practicum/seminar credits; and be employed as a teacher (however students may begin coursework, up to 9 credits, as a non-degree graduate student while they are awaiting their CE,).
All courses except the practicum/seminar are part of the 33-credit MEd program in early childhood education. Students who wish to continue to complete their master's degree, can apply for graduate admissions at the end of P-3 coursework. If accepted in to the master's program, students can apply the 15 credits of P-3 coursework to the master's program with an early childhood concentration.
Candidate Eligibility:
Candidates apply to the New Jersey Department of Education (NJDOE) for a certificate of eligibility (CE) for P-3. Effective September 2009, NJDOE also requires completion of a 24-hour, specialized P-3 training program prior to issuing a CE. When the 24-hour specialized training and upon review of your undergraduate transcripts, NJDOE will issue you a CE (in two to four months) if you meet the GPA requirements and have an academic/science major and pass the appropriate test as required by the state.
The CE allows you to seek employment with a public school or approved non-public school. When the certificate holder accepts an offer of employment, the district/school must register the employment to the Office of Professional Development (609-984-6377) and request issuance of a provisional license. This one-year license allows the holder to begin working in the classroom and legalizes employment. It signifies that the applicant holds a CE and has accepted an offer of employment. In addition, it signifies that the employing school district or approved non-public school has registered the applicant in the Provisional Teacher Program and agreed to provide the required support and supervision.
Special note: While some non-public schools or child development centers will employ you without a CE in hand, you must have a CE in order to complete the specialized alternate route courses and the provisional teacher mentoring and evaluation.
Admission Requirements:
In addition to the University's admission requirements:
A bachelor's degree with an appropriate academic major in either liberal arts or a science program or 60 credits of liberal arts.

A cumulative undergraduate grade point average of 3.00 on a 4.00 scale.

Verification of employment as a P-3 teacher or a letter of a promise of employment with a start date within the first semester of classes. (You must be employed as a teacher in order to continue into the second academic semester).

Effective 9/1/2009 for those who do not already hold a NJDOE CE for P-3 or a CEAS or Standard certificate in another area, you also need to have completed a NJDOE approved 24-hour P-3 training program and submit the certificate of completion. William Paterson university offers this 24-hour training for non-credit through the Center for Continuing and Professional Education through a course titled, Pre-Entry Seminar for P-3 Alternate Route Candidates. The fee is $250.

You must also have passed the Praxis and applied for or hold a NJDOE issued CE for P-3.
*Note bullet 1 and 2 above may be waived if the student holds a NJDOE Certificate of Eligibility for P-3
Program Requirements:
| Concentration: Alternate Route Initial Certification Early Childhood: P-3 | 17 Credits |
| --- | --- |
| CISE 6020 Curriculum Development and Classroom Management in Early Childhood | 3 |
| CIEC 6110 Parenting and Parent Involvement in School and Community | 3 |
| CIEC 6180 Language Development and Emergent Literacy | 3 |
| CIEC 6350 Creativity and Play | 3 |
| CIEC 6360 Foundations in ECE: Environments and Authentic Assessment | 3 |
| CIEC 5010 Practicum and Seminar for Modified Alternate Route Certification | 2 |