Contact Us
Dr. Pamela Brillante
Program Director, Department of Special Education and Counseling
brillantep@wpunj.edu

973-720-2279
Special Education – Teacher of Students with Disabilities (MEd)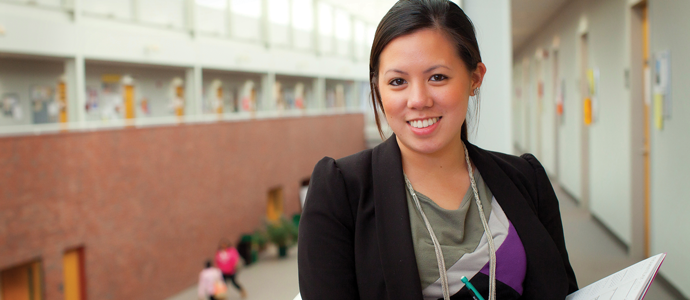 Degree Offered: Master of Education in Special Education
Concentration: Teacher of Students with Disabilities
Application Deadline:
August 1st: Fall semester
December 1st: Spring semester
May 1st: Summer semester
*Applications received after the deadline will be reviewed on a space availability basis

*International students are advised to apply by:
April 1st: Fall (September intake)
November 1st: Spring (January intake)
December 1st: Summer (May intake)
Non-degree status not available
Program Description:
It is the intent of the program to provide current, advanced information on educational research, service delivery, trends, community services, societal attitudes, technical developments, and instructional strategies and practices for the education of persons with disabilities. The program's varied offerings allow teachers, learning consultants, supervisors, and other personnel in and out of special education to develop the knowledge and skills necessary to serve the disabled in a variety of settings. Stage I of this concentration leads to the Teacher of Students with Disabilities Endorsement.
Admission Requirements:
In addition to the University's admission requirements:
Cumulative grade point average of 2.75 on a scale of 4.00.

Two letters of recommendation from professional sources.

NJ Standard or CEAS teaching certificate.

Minimum verbal score of 150 on the Graduate Record Examination (GRE), or a minimum score of 388 on the Miller Analogies Test (MAT).
Program Requirements:
37 credits of graduate study.

Satisfactory completion of a research thesis.
* Candidates must consult with their faculty advisor before selecting courses.
| MEd in Special Education (Teacher of Students with Disabilities concentration) | 37 credits |
| --- | --- |
| TSD Endorsement Stage I | 22 credits |
| SPC 5550 Educational Foundations in a Diverse Society | 3 |
| SPC 5600 Understanding School-based Assessment of Diverse Learners | 3 |
| SPC 5640 Managing Challenging Behaviors in Diverse Settings | 3 |
| SPC 5660 Assistive Technology | 3 |
| SPC 5700 Language, Literacy and Learning in a Diverse Society | 3 |
| SPC 5800 Collaboration with Home School and Community | 3 |
| SPC 5820 The Universally Designed Inclusive Classroom | 3 |
| SPED 6540 Demonstration Teaching for the Exceptional Learner | 1 |
| MEd Stage II | 15 credits |
| SPED 6280 Special Education Law (online course) | 3 |
| SPED 6290 Current Issues in SPED | 3 |
| SPED 6320 Research I | 3 |
| SPED 6330 Research | 3 |
| Directed elective | 3 |