Contact Us
Professor Peter Griswold
Program Director, Department of Special Education and Counseling
griswoldp@wpunj.edu

973-720-3761
Special Education – Learning Disabilities (MEd)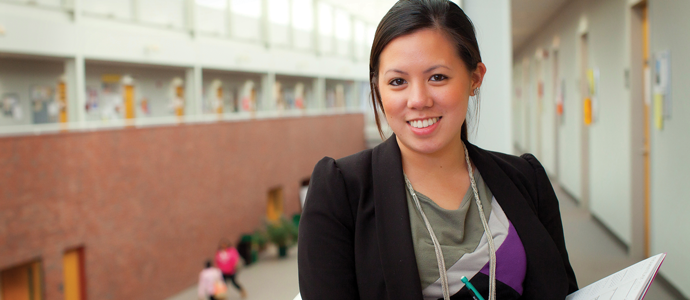 Degree Offered: Master of Education in Special Education
Concentration: Learning Disabilities
Application Deadline:
August 1st: Fall semester
December 1st: Spring semester
May 1st: Summer semester
*Applications received after the deadline will be reviewed on a space availability basis

*International students are advised to apply by:
April 1st: Fall (September intake)
November 1st: Spring (January intake)
December 1st: Summer (May intake)
Program Description:
It is the intent of the program to provide current, advanced information on educational research, service delivery, trends, community services, societal attitudes, technical developments, and instructional strategies and practices for the education of persons with disabilities. The program's variety of offerings allow teachers, learning consultants, supervisors, and other personnel in and out of special education to develop the knowledge and skills necessary to serve persons with disabilities in a variety of settings.
Students who complete the master's degree in the learning disabilities specialization are eligible for endorsement as an LDT-C; this concentration does NOT lead to the Teacher of Students with Disabilities endorsement.
Admission Requirements:
In addition to the University's admission requirements:
Cumulative grade point average of 2.75 on a scale of 4.00.

Two letters of recommendation from professional sources.

Standard teaching certificate and three (3) years of full-time teaching experience.

Written philosophy statement describing how the program will help the applicant meet his/her career goals.

Minimum verbal score of 150 on the Graduate Record Examination (GRE), or a minimum score of 388 on the Miller Analogies Test (MAT).
Program Requirements:
39 credits of graduate study.

Satisfactory completion of a comprehensive examination, which carries no course credit and is required of all students.

Satisfactory completion of a research thesis.
* Candidates must consult with their faculty advisor before selecting courses in the event that changes have been made in the program or its course offerings.
MEd in Special Education (Learning Disabilities concentration)
39 credits
TSD Endorsement Stage I
39 credits
Learning Disabilities Concentration Program
Foundation Courses (Required)
SPED 5310 Orientation to Psychological Testing
3
SPED 5420 Foundations of Learning Disabilities
3
Specialization Courses (Required)
SPED 5430 Diagnosis of Learning Disabilities
3
SPED 6210 Physiological Basis of Learning Disabilities
3
SPED 6220 Learning Theory and Applications
3
SPED 6240 Universal Design for LDT-C
3
SPED 6250 Collaboration Theory and Practice
3
SPED 6440 Correction of Learning Disabilities
3
SPED 6570 Seminar in Clinical Applications to
Learning Disabilities
3
Directed Elective (permission of the faculty advisor required)
3
Research Courses
SPED 6290 Current Issues in Special Education
3
SPED 6320 Research in Special Education I
3
SPED 6330 Research in Special Education II
3
SPED 5420, SPED 6210, and SPED 6220 are prerequisites for SPED 5430.

SPED 5430 is a prerequisite for SPED 6440.

SPED 6570 is taken at a designated location with a 90-hour,supervised clinical experience in either fall or spring semesters.

Prerequisites for the comprehensive exam: 24 specialized credits completed, including SPED 5420,SPED 5430, SPED 6240, SPED 6250, and SPED 6440.