Contact Us
Professor Hilary Wilder
Program Coordinator, Department of Educational Leadership and Professional Studies
wilderh@wpunj.edu

973-720-2410
Curriculum and Learning – Learning Technologies (MEd)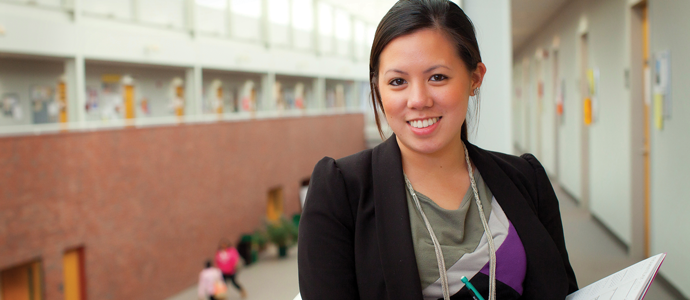 Degree Offered: Master of Education in Curriculum and Learning
Concentration: Learning Technologies
Application Deadline:
NOTE: This MEd program is on hiatus as of Fall 2014. Please contact Hilary Wilder - wilderh@wpunj.edu for more information.
Program Description:
This 33-credit learning technologies concentration in the MEd in curriculum and learning program was recognized in 2010 by the International Society for Technology in Education (ISTE) for meeting their Technology Facilitator standards. Through course and field-based experiences, students explore the educational advantages and disadvantages of current and emerging information and communication technologies. Students gain an understanding of educational technologies and methods for effectively integrating technology into their own teaching and in preparation to serve as technology leaders/coaches who provide basic technical assistance, professional development, and mentoring for others who would like to use technology to support learning and assessment. Graduates in this concentration become expert classroom teachers, researchers, staff developers, and curriculum leaders in their schools and districts, with a commitment to promote twenty-first century learning skills in their students and to foster equity and diversity in the use of technology in their schools.
The program is challenging and includes a concentration-specific comprehensive exit requirement as well as an educational research master's thesis that explores the impact on P-12 learning. Up to 9 credits in the program may be taken for non-degree credit. Appropriate non-degree credits may eventually be applied to the master's degree. Graduate assistantships are available for full-time students. In addition, a separate five-course certificate program is available for post-master's students who wish to become educational technology leaders in their schools or districts.
Admission Requirements:
In addition to the University's admission requirements:
A bachelor's degree from an accredited college or university and official transcripts from all institutions of higher learning attended.

A cumulative grade point average from past degrees of at least 2.75 on a 4.00 scale.*

A minimum verbal score of 450 (older scale, prior to August 1, 2011) or 150 (current scale) on the Graduate Record Examinations (GRE) or a minimum score of 388 on the Miller Analogies Test (MAT).*

A two-page essay by the applicant about how the degree will enhance professional development and what the important issues are in the proposed field of study.

A copy of a standard NJ teaching license or a CEAS (Certificate of Eligibility with Advanced Standing) and/or a resume of any teaching or educational work the applicant has performed.

Two professional letters of reference, at least one from a professor or other person who can attest to the applicant's academic abilities.


Each applicant should have a personal interview before being accepted for matriculation.
*Applicants who do not meet the grade point average or standardized test requirements may supplement the application with additional materials in support of their academic potential for the successful completion of the graduate degree. Additional materials may include the achievement of a grade of B or higher in one of the following courses: ELCL 6190 or TBED 5420.
Program Requirements:
All M.Ed. in Curriculum and Learning concentrations require 33 credits of graduate study:
6 credits of common educational research courses: Research in Education I (ELCL 6290) and Research in Education II (ELCL 6300), leading to the completion of a five-chapter educational research master's thesis that explores the impact on P-12 learning in the field of specialization


27 credits in the concentration, including elective courses. Up to 6 credits may be transferred from acceptable master's graduate programs from outside the University. In addition, with approval of an advisor, elective courses may be selected from other concentrations within the program. Written approval to take any course other than those listed for the program must be obtained in advance in order to obtain a valid substitution.
Learning technologies concentration requirements:
Within the learning technologies concentration, there are 5 core courses (15 credits), all of which are offered online. Two of the courses in the concentration (ELCL 6110 and ELCL 6120) count toward the 12-credit New Jersey supervisory certificate.


Elective courses may be selected with approval from the concentration coordinator, and may include the 2 Educational Leadership courses (EDLP 6040 and EDLP 6090) needed to complete the Supervisory certificate.
| MEd Curriculum and Learning (Learning Technologies concentration) | 33 credits |
| --- | --- |
| Required Common Courses (as above) | 6 credits |
| ELCL 6290 Research in Education I | 3 |
| ELCL 6300 Research in Education II | 3 |
| Learning Technologies Core | 15 credits |
| ELCL 6050 Instructional Technology Foundations & History | 3 |
| ELCL 6110 Designing Technology-Mediated Instruction* | 3 |
| ELCL 6120 Technology-Based Assessment & Evaluation* | 3 |
| ELCL 6240 Field Experience in Instructional Technologies | 3 |
| ELCL 6250 Leadership and Learning Technologies | 3 |
| Recommended Content Electives | 12 credits |
| TBED 5420 Multiculturalism and Acculturation | 3 |
| EDLP 6040 Curriculum Design: Theory and Practice | 3 |
| EDLP 6090 Supervision and Evaluation: Performance Appraisal | 3 |
| SPC 5660 Assistive Technology in the Inclusive Classroom | 3 |
| Exit Requirements | |
| Completion of an Electronic Portfolio aligned to ISTE Technology Coach standards | |