Contact Us
Michael Yakubov
Program Director, Department of CCOB
CCOB-MBA@wpunj.edu

973-720-2678
Business Administration (MBA)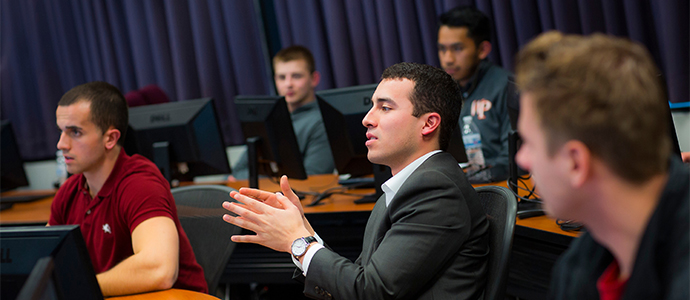 Degree Offered: Master of Business Administration
Concentrations: Accounting, Entrepreneurship, Finance, General, Marketing, Music Management
Application Deadline:
December 1st: Spring semester
May 1st: Summer semester
August 1st: Fall semester
*Applications received after the deadline will be reviewed on a space availability basis

*International students are advised to apply by:
April 1st: Fall (September intake)
November 1st: Spring (January intake)
December 1st: Summer (May intake)
Program Description:
Our redesigned MBA program is uniquely focused on a thematic approach to your advanced business studies. The program is built to offer flexibility in curriculum; course scheduling and offerings, students' career and professional services, customizable program delivery and a strong connection to industry. The 48 credit program also allows for up to 18 credits in waivers for students who successfully completed prior business foundational courses.
In addition, the Cotsakos College of Business has is fully accredited by AACSB International – The Association to Advance Collegiate Schools of Business. AACSB accreditation represents the highest standard of achievement for business schools worldwide. Only about fifteen percent of business schools in the world are accredited by AACSB.
Curriculum Highlights:
The new curriculum offers a lower core with prominence on strong managerial soft skill development and cross functional knowledge in all areas of business; strengthened by an upper core with integrative and strategy-oriented focus where emphasis on leadership which permeates all courses.
Concentration Areas:
Our focused areas of concentration are intended to help strengthen your business acumen in various areas related directly to the demands of industry (Accounting, General Studies, Entrepreneurship, Finance, Marketing and Music Management) add a unique value to our MBA program. With the addition of over 13 new MBA courses (such as Innovation, Strategy, and Corporate Sustainability, Business Analytics, and Influence, Persuasion and Negotiation Strategy) students will benefit from a progressive curriculum that provides a multidisciplinary business approach. These courses have been hand-picked by academically qualified faculty members who engage in practice and policy-oriented research to increase your leadership and profound business knowledge.
Program Flexibility:
Traditional MBA face-to-face courses are delivered in the evenings and weekends and are complimented by flexible hybrid and fully online offerings throughout each semester. Students are encouraged to meet with the MBA Director to discuss the planning of their studies at the onset of their MBA degree.
Admission Requirements:
Cumulative grade point average of no less than 3.00 on 4.00 scale.

Minimum score of 500 on the Graduate Management Admission Test (GMAT) or a minimum score of a 152 verbal and a 152 quantitative on the Graduate Record Examination(GRE).


Students who have an undergraduate GPA above 3.2 from an AACSB-accredited institution and those with advanced degrees, such as PhD, EdD, JD and MD will be waived from the GMAT requirement.

Resume
Program Requirements:
48 credits of graduate study.

Up to 18 lower-core credits may be waived. The only credit hours eligible for waiver consideration are: (a) completed with a grade of B or better; and (b) earned within the most recent six years. Students with a specialized background in a lower-core course area may be given permission to waive the lower-core coursework and substitute advanced or related coursework in that area. In some cases, students may apply to waive lower core credit hours by virtue of examination scores (i.e., the CPA exam).


Students must maintain a minimum GPA of 3.0.
| MBA Business Administration | 48 Credits |
| --- | --- |
| Lower-Core Credit Requirements (may be waived) | 18 credits |
| ECON 6090 Economic Analysis for Managers | 3 |
| MGT 6040 Management Theory | 3 |
| ACCT 6060 Financial Accounting for Managers | 3 |
| FIN 6070 Finance for Managers | 3 |
| MKT 6080 Marketing Management | 3 |
| MBA 6050 Statistics for Managers* (Music Management concentration must substitute MUSI 5400) | 3 |
| Upper-Core Credit Requirement (mandatory)* (Students may elect to take ACCT6070 or MGT6050) | 15 credits |
| MGT 6570 Innovation, Strategy and Corporate Sustainability | 3 |
| MGT 6050 Business Analytics for Strategic Decision Making | 3 |
| ACCT 6070 Accounting for Strategic Business Decision Making | 3 |
| RPS 6100 Influence, Persuasion and Negotiation Strategy | 3 |
| FIN 6550 Financial and Economic Global Strategy | 3 |
| MBA 6700 Integrative Learning Experience | 3 |
| Accounting Concentration | 15 credits |
| ACCT 7100 Financial Accounting and Reporting I | 3 |
| ACCT 7200 Financial Accounting and Reporting II | 3 |
| ACCT 7300 Auditing and Attestation | 3 |
| ACCT 7400 Regulation Federal Taxation | 3 |
| ACCT 7500 Regulation Law and Ethics | 3 |
| Entrepreneurship Concentration | 15 credits |
| ENT 7010 Entrepreneurship–Motivation and Process | 3 |
| ENT 7120 Crisis Management for Organizations | 3 |
| ENT 7200 Financing New Ventures | 3 |
| ENT 7300 Marketing for Entrepreneurs | 3 |
| ENT 7600 Innovation and Entrepreneurship | 3 |
| Finance Concentration* | 15 credits |
| FIN 7520 Investment Analysis | 3 |
| FIN 7530 Financial Planning and Capital Budgeting | 3 |
| FIN 7570 Investment Policy, Ethics, and Portfolio Management | 3 |
| FIN 7580 Derivative Securities | 3 |
| *One Elective: FIN 7600; 7650; 7590; 7750; 7560 | 3 |
| Marketing Concentration | 15 credits |
| Take any five (5) courses from the following list: | |
| MKT 7800 Marketing Research and Analysis | 3 |
| MKT 7850 Business to Business Marketing | 3 |
| MKT 7880 Global Marketing | 3 |
| MKT 7900 Consumer Behavior | 3 |
| MKT 7990 Customer Relationship Management | 3 |
| MKT 7940 Digital Marketing | 3 |
| Music Management Concentration | 15 credits |
| MUSI 5580 Music Technology | 3 |
| MUSI 6000 Graduate Internship in Music Management | 3 |
| MUS 6400 Entrepreneurship in Music | 2 |
| MUS 6430 Current State of Music Industry | 1 |
| MUSI 6450 Entertainment Law | 3 |
| MBA/MUSI Choose any 1 elective in MM or MBA | 3 |