Contact Us
Professor Michael Thompson
Program Director, Department of Political Science
thompsonmi@wpunj.edu

973-720-3874
Public Policy and International Affairs (MA)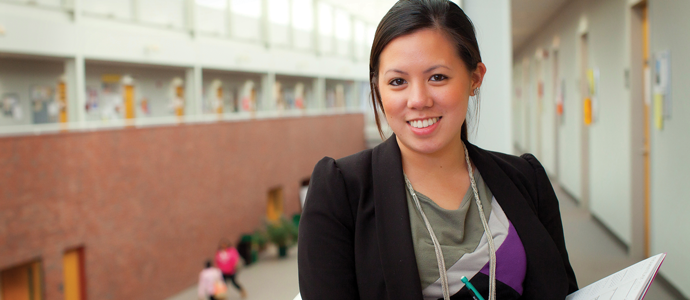 Degree Offered: Master of Arts in Public Policy and International Affairs
Application Deadline:
August 1st: Fall semester
December 1st: Spring semester
*Applications received after the deadline will be reviewed on a space availability basis

*International students are advised to apply by:
April 1st: Fall (September intake)
November 1st: Spring (January intake)
Program Description:
The graduate program in public policy and international affairs provides the foundation for understanding the ways in which contemporary public policy crosses and supersedes national boundaries in an increasingly integrated global environment of trade, information and technology, threats to national security, and the global ecosystem. The interdisciplinary curriculum is designed to train effective innovators and problem solvers by integrating the practical and theoretical, domestic and international dimensions of policy-making and management. Graduates are prepared to work in a variety of settings: government and nonprofit agencies, international nongovernmental organizations (NGOs), education, business, law, journalism, and social services, or to pursue further graduate studies.
After taking a core curriculum designed to provide students with an introduction to the field of public policy-making in an era of globalization, as well as to provide them with the qualitative and quantitative tools needed for work in a professional policy environment, students may concentrate their electives, if so desired, in one of two tracks: 1) public policy and administration, providing courses that prepare students to work in domestic public or nonprofit service and management; and 2) public policy and international affairs for those who want to work in international settings in government, the nongovernmental sector, or business. Opportunities are available through the program for internships in a variety of public, nonprofit, international and corporate settings, as well as short- and medium-term intensive study abroad.
Admission Requirements:
In addition to the University's admission requirements:
Cumulative grade point average of 3.00 on a scale of 4.00.
Two letters of recommendation from professional sources.
Writing sample, preferably a graded paper or a paper that has been written in pursuit of one's professional work.
Minimum verbal score of 152 on the Graduate Record Examination (GRE), or a minimum score of 399 on the Miller Analogies Test (MAT).
Applicants lacking a foundation of undergraduate course work in political science or the social sciences may be required to take appropriate undergraduate courses in the discipline.
Program Requirements:
36 credits of graduate study.
Satisfactory completion of a research thesis.
MA in Public Policy and International Affairs
36
Required Courses
21 credits
POL 5010 Public Policy in an Age of Globalization
3
POL 6240 Introduction to Research Design
3
POL 6250 Tools of Policy Analysis
3
POL 6320 International Political Economy
3
POL 5030 Comparative Public Policy
3
POL 7020 Thesis Writing I
3
POL 7030 Thesis Writing II or POL 6500 Internship
6
Electives
15 credits
Track I – Public Policy and Administration
POL 5990 Selected Topics
1
POL 6020 Critical Theory and Public Policy: Capitalism, Democracy, Globalization
3
POL 6040 The Gendered State and Public Policy
3
POL 6050 Labor, Labor Markets, and the Welfare State
3
POL 6060 Ethnic Conflict, Nationalism, and the Future of the Nation-State
3
POL 6130 Women, Sexual Violence, and Public Policy
3
POL 6200 Political Socialization, Communication and Public Policy
3
POL 6210 American Welfare Policy in Global Perspective
3
POL 6220 Intermestic Policy in the Americas: Licit and Illicit Flows: Immigration, Drugs, and Money
3
POL 6230 Environmental Politics and Policy
3
POL 6260 Theory and Practice: Science, Politics and Globalization
3
POL 7000 Independent Study
3
Track II – Public Policy and International Affairs
POL 5990 Selected Topics
1
POL 6020 Critical Theory and Public Policy
3
POL 6050 Labor, Labor Markets, and the Welfare State
3
POL 6060 Ethnic Conflict, Nationalism, and the Future of the Nation-State
3
POL 6130 Women, Sexual Violence, and Public Policy
3
POL 6190 Globalization and International Trade: The View from the Western Hemisphere
3
POL 6220 Intermestic Policy in the Americas: Licit and Illicit Flows: Drugs, Money, and Immigration
3
POL 6260 Theory and Practice: Science, Politics and Globalization
3
POL 6230 Environmental Politics and Policy
3
POL 6330 U.S. Security Policy in the Twenty-first Century
3
POL 6420 Democracy and International Human Rights
3
POL 6410 International Law and Public Policy
3
POL 6500 Internship
6
POL 7000 Independent Study
1
Up to two electives may be taken outside the department. Suggested non-departmental electives:
Track I Electives:
ECON 6090 Economic Analysis
COMS 6010 Telecommunications Systems
COMS 6050 Language and Communication
COMS 6090 Leadership Processes and Group Conferencing
COMS 6110 Intercultural Communication
MBA 6160 Organizational Behavior and Communication
MBA 6400 Business, Government and Society
NUR 5700 Health Legislation and Health Policy
SOC 5100 Sociology of Cities
SOC 5210 Contemporary Issues in the Workplace
SOC 6610 Sociology of Complex Organizations
SOC 5660 Conflict and Conflict Management
SOC 6040 Social Problems
SOC 6130 Population
SOC 6140 Modern Industrial Societies
Track II Electives:
AACS 5060 Nation Building and Modernization in Africa
AACS 6060 Peoples and Cultures of Africa
AACS 6180 Third World Social and Political Thought
COMS 6110 Intercultural Communication
COMS 6210 Global Communication
ECON 6090 Economic Analysis
HIST 5600 Twentieth Century U.S. Foreign Relations
HIST 5650 Nuclear America
HIST 6330 Modern Britain
HIST 6340 Modern France
HIST 6500 Seminar on the Contemporary Middle East
HIST 660 Seminar in Asian History and Culture