Contact Us
Professor Julie Rosenthal
Program Director, Department of Elementary and Early Childhood Education
rosenthalj@wpunj.edu

973-720-3087
Elementary Education K-6 (MAT)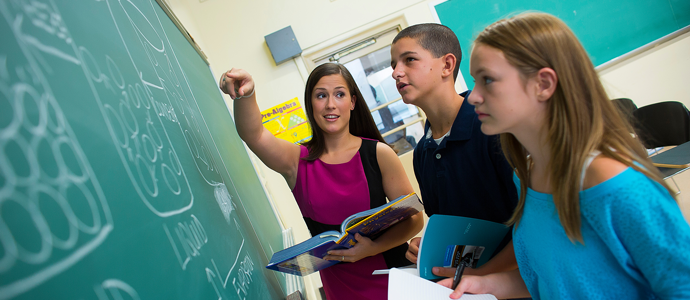 Degree Offered: Master of Arts in Teaching in Elementary Education K-6
Campus Location
1600 Valley Road Building
Application Deadline:
April 30, 2017
Matriculation:
Summer term
Program Description:
The Master of Arts in Teaching in Elementary Education (K-6) is a 33-credit, 14 month program, in which graduate students earn initial certification in Elementary Education and a Master of Arts in Teaching degree. The coursework begins in May of the first summer and ends in July of the following summer. The program requires a year-long residency starting in September, during which students will be in area schools full time, three days a week in the fall and four days a week in the spring. Students will complete their action research projects during the second summer semester. Students will be required to demonstrate effective teaching, research, and dispositions that are aligned with COE, state, and national standards through videos, lesson plans, and a research capstone project. Literacy and technology are integrated throughout the program and key assessments include lesson planning, a teaching performance assessment, an action research project, and edTPA.
Admission Requirements:
In addition to the University's admission requirements:
A baccalaureate degree with either a major in a liberal arts or science or with a minimum of 60 credits of liberal arts.

Cumulative undergraduate GPA of at least 3.00 on a 4.00 scale.

Passing score on PRAXIS Core exam in reading, writing, and math
Passing score on PRAXIS II content exam in Mathematics: Content Knowledge
Two letter of recommendation from educational, professional or business sources
An Essay describing applicant's reason for wishing to complete the program
An Interview with Program Director, Dr. Julie Rosenthal
***Obtain Substitute Teaching License immediately when applying for this program.***
Requirements to be completed prior to Student Teaching:
Submission of Residency Application
Take a course in child or developmental psychology (may be satisfied by undergraduate coursework.)
Fulfill health/hygiene requirement
Pass speech and hearing assessments
Program Requirements:
33 credits of graduate study.

Cumulative GPA of at least a 3.00 on a 4.00 scale.

Satisfactory completion of edTPA

Satisfactory completion of action research project

Satisfactory completion of year-long residency.
MAT Elementary Education (K-6)

33credits

Foundational Coursework in First Summer, May-July
CMAT 5100 Educational Perspectives and Practices in Inclusive Environments (25 hours clinical experience)
3
CMAT 5070 Language Development and Literacy Acquisition for Diverse Learners (25 hours clinical experience)
3
CMAT 5310 Introduction to Educational Technology and Assessment in K-6 Classrooms
3
Total Credits: Semester One/Summer
9
Residency and Methods Coursework for Fall (Pre-reqs: CMAT 5100, 5070, 5310)
CMAT 5320 Methods of Teaching English Language Arts in the Elementary Classroom
3
CMAT 5330 Mathematics in Elementary Classrooms: Methods and Assessments for Teaching K-6
3
CMAT 6220 Cross Cultural Perspectives on Teaching, Schools and Communities
3
EDUC 5170 Clinical Practice 1 and Seminar (3 days/week)
3
Total Credit Semester Two/Fall
12
Residency and Methods Coursework for Spring
CMAT 5290 Science Inquiry and Arts Integration
3
CMAT 5340 Social Studies Methods and Assessments with Arts Integration
2

EDUC

5250 Clinical Practice 2 and Seminar (4 days/week)

3
Total Credits Semester Three/Spring
9
MAT Capstone June-July
CMAT 5830 Action Research in Clinical Setting
3
Total Program Hours
33