Contact Us
Dr. Thomas Fallace
Program Director, Department of Elementary and Early Childhood Education
fallacet@wpunj.edu

973-720-3942
Initial Certification – Secondary Education – K-12 English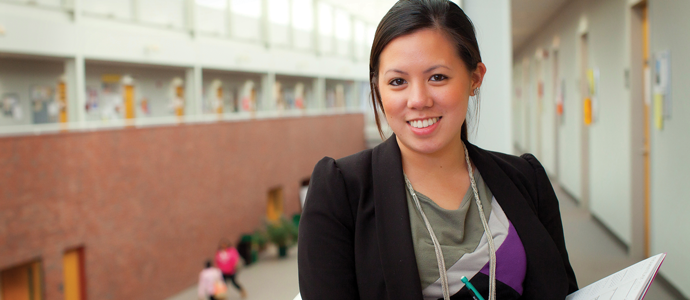 Degree Offered: Initial Certification
Concentration: Initial Certification Secondary Education K-12: English
Campus Location
1600 Valley Road Building
Application Deadline:
Rolling Admissions
Program Description:
This program offers a graduate curriculum leading to a New Jersey certificate of eligibility with advanced standing (CEAS) in English.
(Note: Post-baccalaureate teacher certification programs may be taken as stand alone programs OR can be taken as Phase I in the 2-phase MAT Program. See MAT Program Sheet for details.)
Following completion of the first 15 credits of coursework, candidates enroll in a 10-credit student teaching internship plus a 2-credit seminar. The traditional internship requires a full semester of supervised teaching in a public school.
Additional field placements include a part-time practicum and school-based observations.
Admission Requirements:
In addition to the University's admission requirements:
Baccalaureate degree with a major in English.

A cumulative undergraduate grade point average of at least 3.00 on a 4.00 scale.

Two letters of recommendation from an educator.

An essay describing applicant's reasons for wanting to enter the teaching profession.

An interview with the program director.

Praxis Core academic skills for educators

Passing Score on the appropriate Praxis II exam(s)

Requirements to be completed prior to Student Teaching:
Fulfill health/hygiene requirement.

Pass speech and hearing assessments.
*Candidates must consult with their faculty advisor before selecting courses in the event that changes have been made in the program or its course offerings.
** Candidates must maintain a cumulative GPA of 3.0 on a 4.0 scale in order to remain matriculated in this program
Program Requirements:
27 credits of graduate study.

Become a member of content area Specialized Professional Association (SPA).

Performance Portfolio with resume, lesson plans and unit plans, assessment and management techniques.

Cumulative GPA of at least a 3.00 on a 4.00 scale.

Satisfactory completion of a mandated assessment at the conclusion of student teaching.
Certificate: Initial Certification in Secondary Education K-12 English
27 credits
Program Requirements:
Semester I
9
CIEE 5110 Educational and Psychological Theories and Applications (Includes 20 hours unsupervised field observations)
3
CISE 5200 Educational Psychology & Classroom Management
3
CIRL 5220 Literacy & Technology Across the Curriculum
3
Semester II
6
CIEE 5220 Inclusion, Second Language Learners and Differentiated Instruction
2
CIEE 5300 Secondary Education Practicum Internship (Apply in advance for Practicum placement. Candidates must possess a substitute teaching license prior to practicum semester)
1
CISE 5340 English/Language Arts Methods in Secondary Schools
3
Semester III
12
EDUC 5400 Student Teaching Internship – 5 days per week
10
CISE 5500 Reckoning with the Past & Preparing for a Future in Education
2
Note: Field experiences (CISE 5300 and EDUC 5400) MUST be applied for one year in advance. Applications which include biographical data forms, are available to download from the Office of Field Experiences web page at www.wpunj.edu/coe/departments/field/applications.dot