Contact Us
Professor Carrie Hong
Program Director, Department of Educational Leadership and Professional Studies
honge1@wpunj.edu

973-720-2130
Literacy – Language Arts (MEd)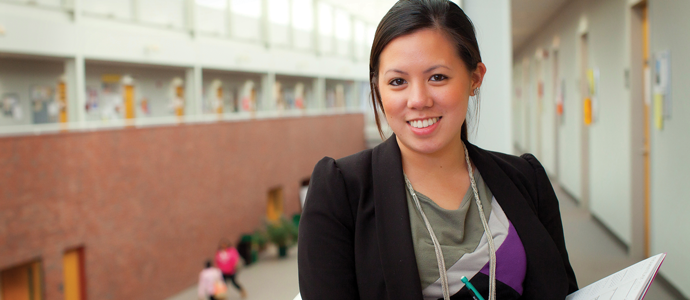 Degree Offered: Master of Education in Literacy
Concentration: Language Arts
Please note: Language Arts concentration is on hiatus
Campus Location
1600 Valley Road Building
Application Deadline:
Rolling Admissions


Program Description:
Please note: Language Arts concentration is on hiatus.
The Language Arts concentration focuses on the historical and developmental aspects of the English language as they occur in society in general and the elementary school environment in particular. It encompasses all forms of communicative literacy including the use of technology to transmit and receive meaningful discourse in school settings. Course content includes a study of children's literature and its contribution to emotional, social, and educational growth. Students in the program develop an active interest in critical inquiry derived from published informed opinion and conduct classroom research.
Admission Requirements:
In addition to the University's admission requirements:
Cumulative grade point average of no less than 2.75 on 4.00 scale*
Copy of NJ Standard or Eligibility with Advanced Standing teaching certificate.
Minimum verbal score of 150 on the Graduate Record Examination, or minimum score of 388 on the Miller Analogies Test*.
250-500 word essay by the applicant on his or her philosophy of education and reasons for applying to this graduate program.
Two professional letters of reference, at least one from a professor or other person who can attest to the applicant's academic abilities.
*Applicants who do not meet the grade point average or standardized test requirements may supplement the application with additional materials in support of their academic potential for successful completion of the graduate degree.
Program Requirements:
Completion of a minimum of 33 credits of graduate study.

Completion of five-chapter research thesis in the field of literacy

Satisfactory completion of a comprehensive examination, which carries no course credit
Requirements for Reading Specialist K-12 Certification:
Completion of this M.Ed. in Literacy program or another master's degree, plus 30 graduate credits in reading
Two years of contractual, supervised classroom teaching experience.


New Jersey Supervisory Endorsement:
The state of New Jersey has approved a supervisory certification for recent graduates of William Paterson's M.Ed. in Literacy program, provided that they complete two additional courses in the University's educational leadership program. Students who graduated after August 1999 are eligible to apply to take the following two courses and, upon satisfactory completion of the requirements, be certified as a supervisor:
EDLP 6040 Curriculum Design: Theory and Practice
EDLP 6090 Supervision and Evaluation: People, Programs, and Performance
M.Ed. Literacy (Language Arts)*
33 credits
Required Foundations Courses
6 credits
ELRL 6010 Theoretical Foundations of Literacy
3
ELRL 6330 Socio-Psycholinguistics and Reading
3
Required Curriculum Courses
9 credits
ELRL 6170 Children's Literacy in the 21st Century
3
ELCL 6030 Language Arts in the Elementary School
3
ELCL 6040 Writing in the Elementary School
3
Required Thesis Courses
6 credits
ELRL 6230 Practicum in Reading (Thesis I)
3
ELRL 6270 Research in Reading (Thesis II)
3
Required Literature Elective
3 credits
Select one of the following:
ELRL 6040 Recent Trends in Children's Literature
3
ELRL 6260 Literature for Adolescents
3
Other Available Electives:
ELEC 6180 Language Development and Emergent
3
Literacy
ELRL 6310 Written Expression Using Technology
3
*Effective for students matriculated after fall 2010