Academic Support Center
New Website Additions:
About the Support Center
At the Academic Support Center, students receive one-on-one tutoring assistance for numerous lower-level and upper-level courses, as well as for basic skills math and reading courses. Workshops designed to help students develop effective study skills and strategies are frequently offered. From the Center's lab, students may access network computer facilities.Study groups, and exam review sessions are also available.
Mission Statement
The mission of the Academic Support Center is to facilitate the accessibility to academic resources that addresses both cognitive and developmental needs of the diverse student body. In an environment conducive to lifelong learning, the Center supports the academic goals and objectives of both students and faculty. The Center's services strive to maintain and exceed high academic standards.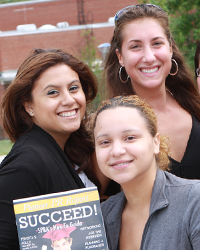 William Paterson University
300 Pompton Road
Wayne, New Jersey 07470
973-720-2000